Apple Cranberry Crumble Pie
The Perfect Sweet-Tart Treat: Apple Cranberry Crumble Pie
DESSERTSHOLIDAYRECIPES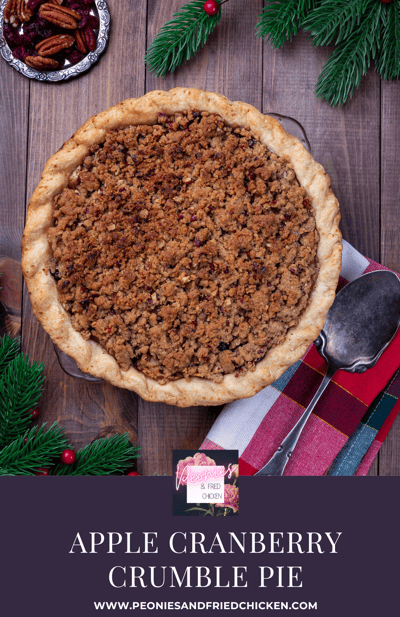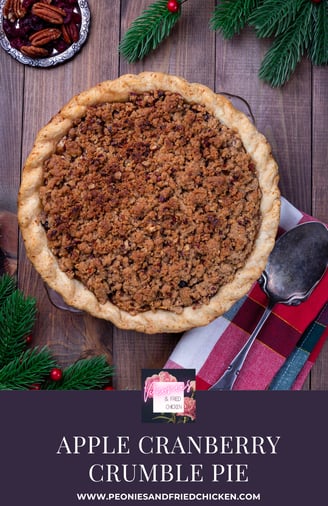 Apple Cranberry Crumble Pie
Ingredients:
Servings: 8 Total Time: 4 hours
Filling:
8 apples
10 oz. fresh cranberries
1/4 cup flour
1/2 cup brown sugar
2 teaspoons cinnamon
1/8 teaspoon nutmeg
1/4 teaspoon salt
2 tablespoons maple syrup
1 1/2 tablespoons lemon juice
1/2 stick butter
1 deep dish pie crust
Crumble Topping:
2/3 cup wheat flour
1/2 cup rolled oats
1/3 cup finely chopped pecans
1/3 cup brown sugar
1/2 teaspoon cinnamon
1/8 teaspoon nutmeg
6 tablespoons cold butter
Preparation
Start by peeling and slicing your apples.

Now in a large mixing bowl make the filling by combining apples, cranberries, flour, brown sugar, cinnamon, nutmeg, salt, maple syrup, and lemon juice. Mix everything until combined.

Pour the filling into your pie crust.

For the crumble topping add the flour and oats to a food processor, and pulse until well combined. Then add in pecans, brown sugar, cinnamon, nutmeg, and butter. Pulse the mixture until it becomes crumbly. Then set aside.

Cover the pie with aluminum

foil and bake at 425 F for 35 minutes. Then remove the pie from the oven and reduce the temperature to 375 F.

Remove the foil and add on the crumble topping. Bake at 375 F for 50-60 minutes. Until the top starts to brown.

Remove from oven and let cool for about 2 hours. Then serve and enjoy!
Join us on a delicious journey this season with this heartwarming Apple Cranberry Crumble Pie. This mouthwatering pie combines the comforting taste of sweet apples with the zing of cranberries, all nested underneath a buttery crumbly topping. Explore the amazing combination of apples, cranberries, and the texture of a crumble topping that brings a bunch of flavors and textures to each bite! So, let's elevate our baking game with a slice of pure fall delight with the Apple Cranberry Crumble Pie.
Enjoy!