Apple Pie Muffins
A Bite of Autumn: Apple Pie Muffins
BREAKFASTRECIPES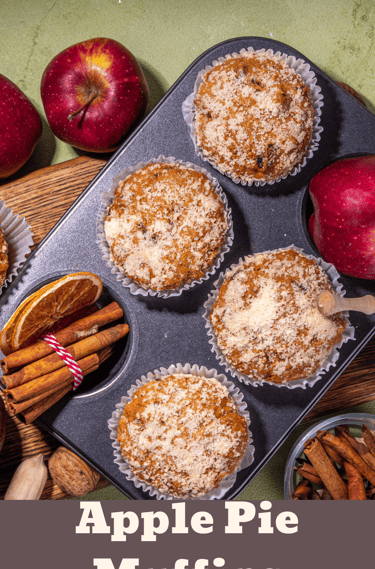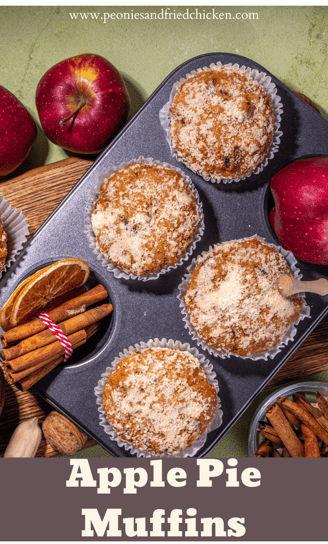 Apple Pie Muffins
Ingredients:
Servings: 6 Total Time: 30 mins
10 oz. flour
1/2 teaspoon baking soda
1/4 teaspoon salt
2 tablespoons applesauce
1/2 cup buttermilk
3 oz. melted butter
1/2 teaspoon vanilla extract
1 cup brown sugar
1 cup diced apples
1/2 teaspoon ground cinnamon
powdered sugar
Preparation
In a bowl combine 9 ounces of flour, baking soda, and salt. Whisk to combine.

In a separate bowl combine applesauce, buttermilk, 2 ounces melted butter, vanilla, and 12 tablespoons brown sugar. Mix together until well combined.

Pour the flour mixture into the wet mixture and then add in the diced apples. Stir everything together until well combined.

Grab your muffin tin and grease it with some cooking oil or line it with muffin liners. Spoon the mixture into the muffin tin.

In another bowl combine the remaining 1/4 cup brown sugar, 1 ounce flour, and cinnamon. Stir to combine. Then add in the remaining 1-ounce melted butter. Stir with a fork to blend. Then sprinkle the mixture on top of the muffins.

Bake at 375 F for 25 minutes, or until the top of the muffins become golden brown.

Remove from oven and if you'd like, top with some powdered sugar.
Indulge in the cozy flavors of fall with these warm delectable Apple Pie Muffins. We show you how to capture the essence of the classic apple pie in a convenient handheld form. This autumn treat combines tender apple chunks, warm spices, and a buttery sugary streusel topping. These muffins will transport your taste buds to a beautiful crisp fall day! So, join us in celebrating the flavors of the season and elevate your baking game with the Apple Pie Muffins.
Enjoy!