Beef Stroganoff
Savor the Classic Beef Stroganoff
DINNER RECIPES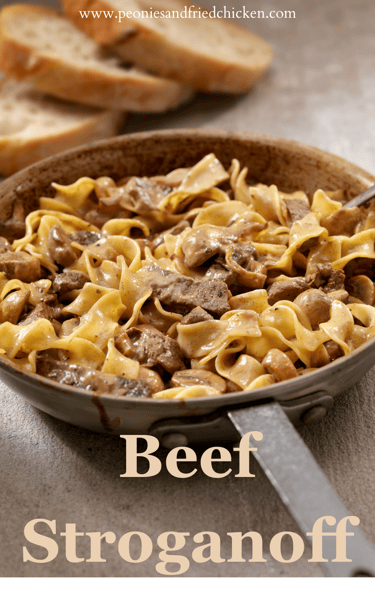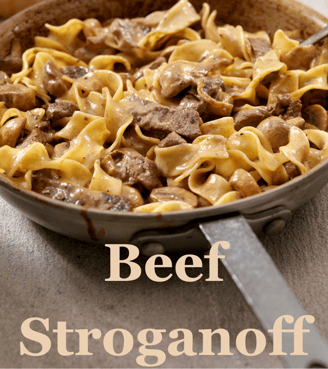 Beef Stroganoff
Ingredients:
Servings: 4 Total Time: 50 mins
1 1/2 lb. steak or chunk roast, cubed
3 tablespoons flour
8 oz. mushrooms
14 1/2 oz. beef broth
1/2 cup sour cream
1/2 teaspoon seasoned salt
1/2 teaspoon pepper
2 tablespoons olive oil
2 tablespoons butter
1 yellow onion, diced
1 minced garlic clove
2 teaspoons worcestershire
1/2 tablespoon dijon mustard
1/2 teaspoon thyme
Preparation
Season the steak with salt, pepper, and 1 tablespoon of flour.

In a skillet on high heat, add olive oil and beef. Lightly brown the beef and then remove from heat and transfer to a plate.

Reduce the heat to medium and add butter and onions. Cook for about 5 minutes until the onions are softened.

Now add mushrooms and garlic and cook for another 5 minutes. Then add the remaining flour and cook for another minute.

Add beef broth, worcestershire, dijon mustard, and thyme. Bring to a boil then reduce heat and let simmer for 5 minutes.

Now add the beef and any juices from the beef left on the plate. Cook until the beef is heated through. Then remove from heat.

Stir in sour cream.

Season everything with salt and pepper to taste.
Join us on a culinary journey steeped in tradition and flavor as we explore the timeless Beef Stroganoff. This delightful dish combines tender strips of beef, and fragrant mushrooms in a creamy savory sauce mixed with an array of flavorful spices and seasonings. Whether you're an experienced home chef or a passionate food enthusiast, this recipe is perfect for you to have restaurant-worthy food at home! So get ready to savor the rich comfort of the timeless Beef Stroganoff.