Berry French Toast Bake
Sweet Berry Bliss: Berry French Toast Bake
BREAKFASTRECIPES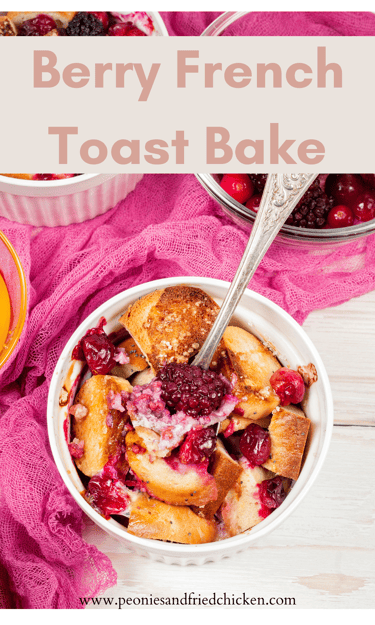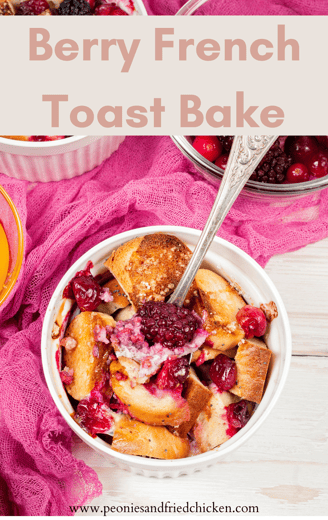 Berry French Toast Bake
Ingredients:
Servings: 12 Total Time: 1 hr
14 cups cubed french or white bread
8 eggs
2 cups milk
2 teaspoons vanilla extract
1 teaspoon cinnamon
1 cup brown sugar
2 tablespoons butter
1/2 cup raspberries
1/2 cup blackberries
1/2 cup cranberries
powdered sugar
Preparation
Cut your french bread (or you can use just plain white bread) into cubes. Then grease your casserole dish with some oil. Place the bread into the casserole dish.

In a mixing bowl combine eggs, milk, cinnamon, 2/3 cup brown sugar, and vanilla extract. Whisk to combine. Then pour this mixture on top of the bread in the casserole dish.

Cover the casserole dish in aluminum foil and refrigerate for at least 4 hours.

Then bake the casserole covered with aluminum foil at 350 F for 30 minutes.

While that's baking make the brown sugar crumbs by combining 1/3 cup brown sugar and 2 tablespoons cold butter. Mash together until it becomes like crumbs.

Remove the casserole from the oven and add brown sugar crumbs and fresh berries.

Bake uncovered at 350 F for another 20 minutes.

Garnish with powdered sugar and maple syrup.
Indulge in a mouthwatering breakfast with this Berry French Toast Bake. Level up from your regular french toast with this recipe that combines french bread coated in a sugary, milky, spiced mixture all topped with fresh berries of your choice, garnished with powdered sugar and thick maple syrup. Can we all agree this is the ultimate breakfast?! This breakfast dish is perfect for the fall and wintertime to make you feel warm and cozy, plus, you have something delicious to look forward to on those chilly mornings! So, join us in celebrating this harmonious fusion of comfort and freshness with the Berry French Toast Bake.
Enjoy!