Boozy Apple Pie Smoothie
Sip and Savor Autumn Bliss: Boozy Apple Pie Smoothie
COCKTAILSFALL COCKTAILS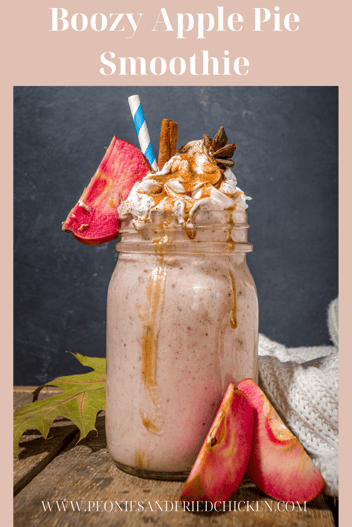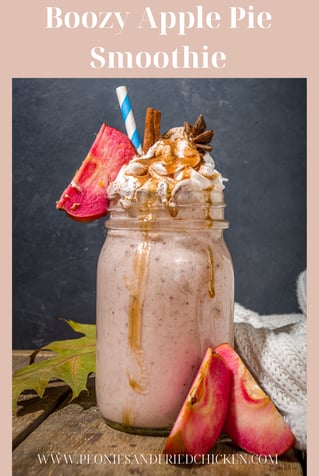 Boozy Apple Pie Smoothie
Ingredients:
Makes 1
1 apple, cubed
6 oz. milk
3 oz. vanilla greek yogurt
1/2 teaspoon apple pie spice
pinch of ground cinnamon
1/2 teaspoon maple syrup
2 oz. bourbon
whipped cream for garnish
apple pie spice for garnish
caramel syrup for garnish
cinnamon stick for garnish
Preparation
In a blender with a little ice combine cubed apple, milk, yogurt, apple pie spice, ground cinnamon, maple syrup, and bourbon. Blend until completely smooth. Add more ice if the smoothie is not thick enough.

Pour the smoothie into a mason jar.

Top with whipped cream, apple pie spice, caramel syrup, and a cinnamon stick. For a little extra, you can add a star anise and a pink lady apple slice for garnish.
Indulge in delightful cozy comfort with our Boozy Apple Pie Smoothie cocktail. This mouth-watering drink combines the warmth of apple pie spice, crisp fresh apple, sweet maple syrup, and creamy yogurt with a touch of smooth bourbon. And to make it even better it's all topped with a creamy crown of whipped cream, a drizzle of caramel syrup, and a sprinkle of apple pie spice. You can really elevate any moment with this festive cocktail! So, cozy up by the fireplace this fall and join us in making our Boozy Apple Pie Smoothie.
Enjoy!