Broccoli Cheddar Chicken Pasta Casserole
Creamy Cheesy Comfort: Broccoli Cheddar Chicken Pasta Casserole
DINNER RECIPES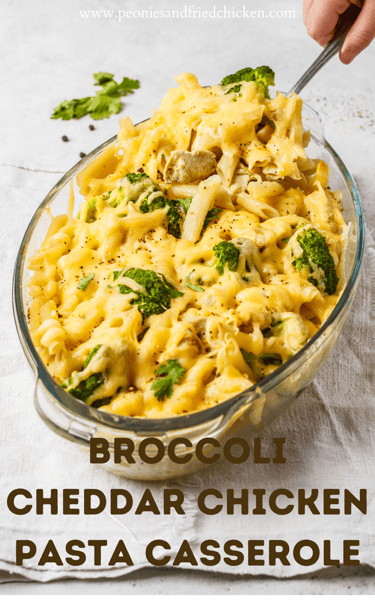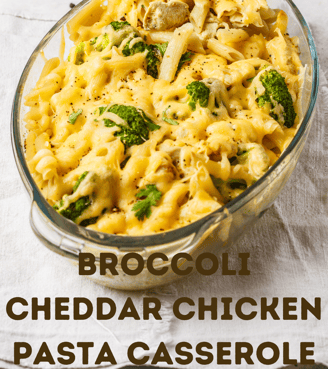 Broccoli Cheddar Chicken Pasta Casserole
Ingredients:
Servings: 5 Total Time: 45 mins
4 oz. penne pasta
4 oz. rotini pasta
1 head broccoli
2 cups diced chicken breast
1 1/4 cup shredded cheddar cheese
2 tablespoons olive oil
1 white onion
4 minced garlic cloves
2 tablespoons cornstarch
1 1/2 cup milk
1 cup chicken stock
1 tablespoon dijon mustard
salt
pepper
Preparation
First, cook your pasta and chicken breasts.

Cut broccoli into small bite-size pieces and finely dice your onion. Add the broccoli into the pasta for a minute right before the pasta is done.

Heat a pan over medium heat, add olive oil and onions. Sauté for a couple of minutes. Then add in your garlic in sauté for another couple minutes.

In a mixing bowl whisk together cornstarch and milk until thick. Then add the mixture to the pan.

Remove pan from heat and stir in 1 cup cheddar cheese, salt, and pepper.

In your oven-proof baking dish add in your cooked pasta, broccoli, and diced chicken. Pour your sauce over and stir everything well to combine.

Flatten everything down with a spatula and then sprinkle the remaining cheese on top.

Bake at 400 F for about 15 minutes.
Indulge is an amazing comfort food this season with this Broccoli Cheddar Chicken Pasta Casserole. This recipe has it all, cheesy, creamy, hearty, and delicious! It takes less than an hour to have a delicious casserole dinner on the table ready to eat. This mouthwatering dish combines tender chicken and vibrant broccoli all mixed together with a creamy, cheesy sauce. Discover how to balance the delightful flavors and textures of cheese, vegetables, and protein in this warming fall dish. So, get ready to savor the warmth, richness, and pure delight with this Broccoli Cheddar Chicken Pasta Casserole.