Candy Cane Fudge
Sweet Holiday Indulgence: Candy Cane Fudge
DESSERTSHOLIDAYRECIPES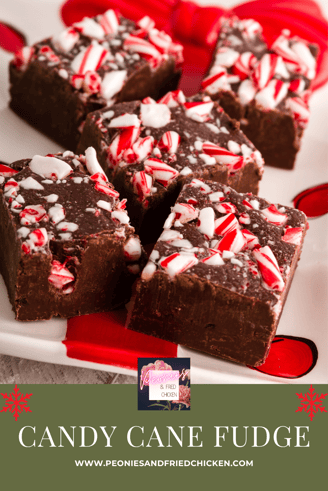 Candy Cane Fudge
Ingredients:
Servings: 48 Total Time: 10 mins
2 cups chocolate chips
14 oz. canned condensed milk
1 teaspoon vanilla extract
3 candy canes
Preparation
In a saucepan melt your chocolate chips with the condensed milk. Make sure to keep stirring as the chocolate is melting.

Remove from heat and stir in the vanilla extract.

Line an 8 x 8 pan with parchment paper. Pour the melted chocolate into the pan.

Place your candy canes in a plastic bag and crush them with a rolling pin or anything you have on hand.

Sprinkle the crushed candy canes on top.

Refrigerate for about 4 hours.
Get ready to dive into the festive season with us with some Candy Cane Fudge. This treat encapsulates the essence of the holidays in every creamy, minty bite. This recipe will show you how to make a fudge that embodies sweetness and festivity. So, if you're ready to have some fun cooking this holiday season and want a comforting dessert then join us in making some Candy Cane Fudge!
Enjoy!