Candy Corn Swirl Cookies
Candy Corn Swirl Cookies: A Sweet Spin on Halloween Treats
DESSERTSHOLIDAYRECIPES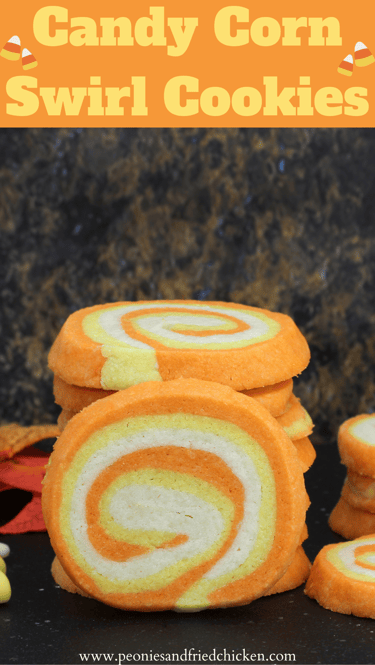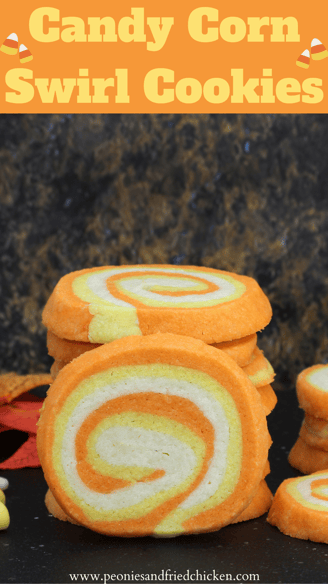 Candy Corn Swirl Cookies
Ingredients:
Servings: 10 Total Time: 1 hr 20 mins
16 oz. softened butter
2 cups granulated sugar
2 eggs
2 teaspoons baking powder
2 teaspoons vanilla extract
5 cups flour
6 drops yellow food gel
6 drops orange food gel
Preparation
First, cream the butter in a bowl with a hand mixer. Add in sugar and mix again until well combined. Then add in eggs, baking powder, and vanilla extract. Mix everything until well combined.

Now add the flour in small batches and mix in between. If the dough is sticky add more flour and mix again until the dough is no longer sticky.

Take the dough and separate it into 3 sections. Color one yellow, and one orange, and leave the other plain. Then place the dough in the refrigerator for about 20 minutes.

Roll each piece of dough out to 1/2" thick. Stack the 3 sections of dough on top of each other. Place the orange dough on the bottom, the yellow dough in the middle, and the plain dough on top. Then trim the edges so the dough is an even rectangle shape.

Roll the dough to form a log. Then wrap the dough in plastic wrap and place in the refrigerator for 40 minutes.

Remove the plastic wrap from the dough. Cut it into 1/2" thick slices. Then place the cookies on a baking sheet lined with parchment paper.

Bake at 350 F for about 10 minutes.
Dive into the world of vibrant and sugary delights this season with these Candy Corn Swirl Cookies. These festive cookies are sure to be the star of the dessert table at any Halloween party. The kid-friendly treats are made by making a delicious sugar cookie dough and adding colorful food dye to make a candy corn design. They're easy to make but impressive, so when you're not feeling up to how much time it takes to make an elaborate dessert, these cookies are perfect! So, get ready to make some cookies that are delicious, visually appealing, and simply irresistible!
Enjoy!