Caramel Apples
Sticky Sweet Delights: Caramel Apples
DESSERTSRECIPES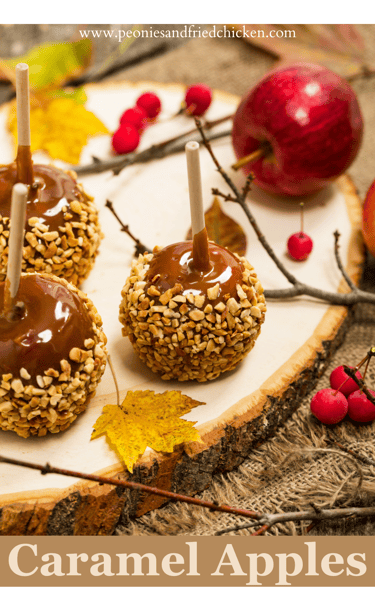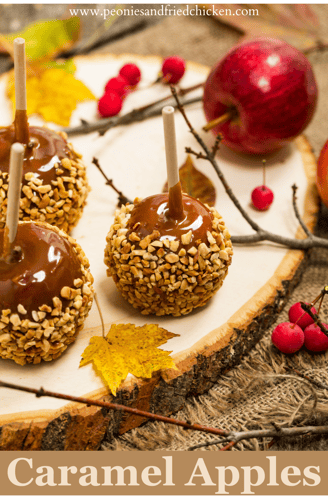 Caramel Apples
Ingredients:
Servings: 8 Total Time: 2 hrs 15 mins
8 apples
2 cups chopped peanuts
2 cups brown sugar
14 oz. can sweetened condensed milk
1 cup corn syrup
1 cup butter
2 teaspoons vanilla extract
8 wooden skewer sticks
Preparation
Start by bringing a saucepan full of water to a boil. Then dip the apples in the boiling water for a few seconds. Then remove and pat dry with a paper towel. Set the apples aside for about 30 minutes to cool.

Insert the skewer sticks into the bottom of each apple, through the core.

In a saucepan over medium heat combine brown sugar, sweetened condensed milk, corn syrup, and butter. Bring the mixture to a boil while constantly stirring. Then reduce heat to medium. Cool until the temperature reaches 248 F, about 30 minutes. Remove caramel from heat and stir in vanilla extract.

Quickly dip each apple into the hot caramel making sure to completely coat each apple.

We then topped ours with peanuts (optional of course), but if you want to add toppings sprinkle on to the apples while still hot. Then let apples cool on a baking sheet lined with parchment paper.

After 1 hour you can serve.
Embrace the charm of autumn with some timeless Caramel Apples. We guide you through how to make these beloved treats that take tarty juicy apples and dip them in a sticky caramel sauce made out of sugar, milk, corn syrup, and butter. This treat is always fun to make with your family, especially kids because the varieties are endless, and you have full creative control over toppings! So, get ready to savor the sweet and nostalgic joy that comes with each bite of your own homemade Caramel Apples!
Enjoy!