Chicken Alfredo
Creamy Comfort: Crafting the Perfect Chicken Alfredo
DINNER RECIPES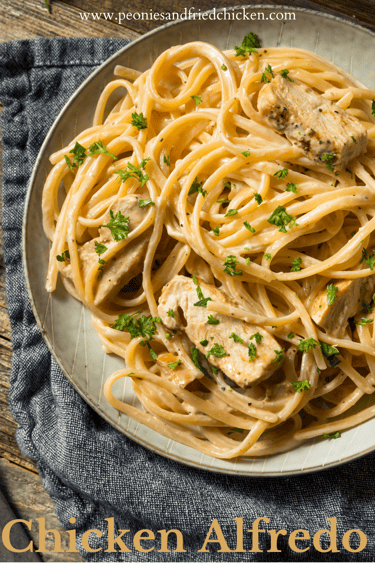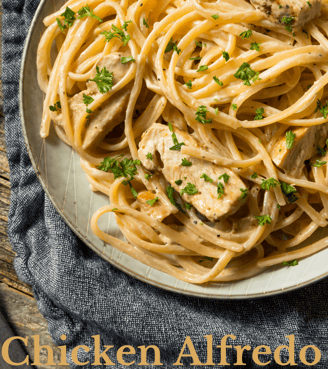 Chicken Alfredo
Ingredients:
Servings: 4 Total Time: 40 mins
2 boneless skinless chicken breasts
1 cup heavy cream
3/4 cup grated parmesan cheese
8 oz. fettuccine
2 teaspoons italian seasoning
1 tablespoon olive oil
2 tablespoons butter
4 minced garlic cloves
salt
pepper
fresh parsley for garnish
Preparation
Season the chicken breasts with Italian seasoning and a little salt.

In a large skillet over medium heat add olive oil then chicken. Cook for about 8 minutes on each side until the chicken is browned.

Once cooked remove chicken and place on a plate.

Now on medium-low heat add butter and minced garlic to the skillet. Cook for about 2 minutes.

Then add in heavy cream and whisk to combine. Bring to a simmer.

Start to cook your fettuccine noodles. Reserve 1/2 cup of pasta water.

Now that the heavy cream is simmering, add parmesan cheese to the skillet. Whisk to combine, until the cheese is melted. Bring to a simmer again for a couple of minutes until the sauce is thick. Then add in some salt and pepper.

Add your reserved pasta water to the sauce. Then add in your cooked fettuccine. Stir to combine.

Slice the cooked chicken breasts and serve on top of the pasta.

Garnish with some chopped parsley.
Indulge in the ultimate comfort food this season with Chicken Alfredo. This recipe is so easy to whip up you'll be making it all fall and winter long! Join us as we show you the perfect combination of tender chicken breasts and creamy sauce made from thick heavy cream, flavorful parmesan cheese, and aromatic garlic. Get ready to savor the rich, velvety goodness of Alfredo sauce, all while enjoying the comfort of a home-cooked meal. So, prepare to impress everyone and satisfy your taste buds with this Chicken Alfredo recipe!