Chicken Cacciatore
Rustic Italian Flavors: Chicken Cacciatore
DINNERRECIPES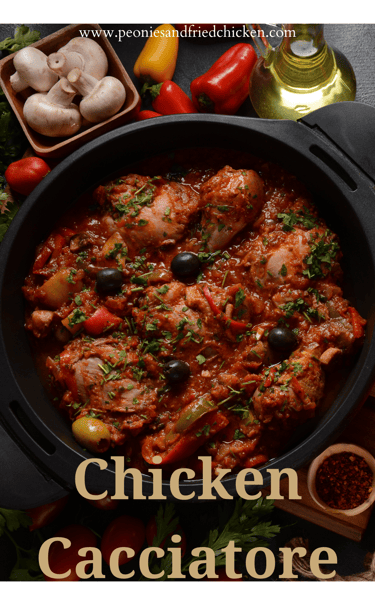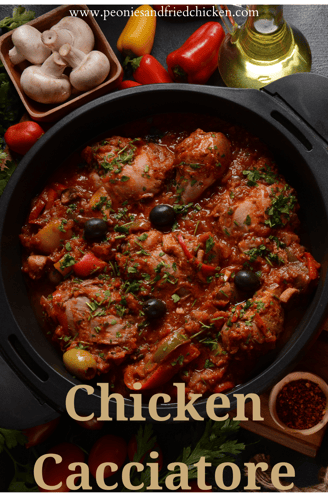 Chicken Cacciatore
Ingredients:
Servings: 6 Total Time: 55 mins
6 boneless skinless chicken thighs
3 tablespoons olive oil
1 diced yellow onion
1 chopped bell pepper
3 minced garlic cloves
3/4 cup chicken broth
28 oz. can crushed tomatoes
4-5 black olives
2 teaspoons italian seasoning
1/2 tablespoon balsamic vinegar
salt
pepper
fresh basil for garnish
Preparation
In a pot over medium-high heat, heat 2 tablespoons of olive oil. Then season both sides of all the chicken thighs with salt and pepper. Once the pot is hot add in the chicken. Cook each side for a couple of minutes until browned. Then remove the chicken and transfer to a plate.

Reduce heat to medium. Add 1 tablespoon of olive oil, diced onions, and chopped bell pepper (in thin long slices). Cook for about 5 minutes until everything is soft. Then add in garlic and cook for another minute.

Add in the chicken broth and stir everything together. Let everything simmer for a couple of minutes.

Add canned crushed tomatoes, italian seasoning, and balsamic vinegar. Stir to combine and let simmer uncovered for 10 minutes.

Now add the chicken thighs into the sauce. Cover the pot and let simmer for another 20 minutes.

Garnish with some fresh chopped basil and a couple of black olives.
Get ready for a culinary journey to Italy with this Chicken Cacciatore recipe. This rustic dish is a true celebration of flavors and tradition. We'll show you how to make a harmonious blend of tender chicken, fresh bell peppers, and aromatic herbs all in a juicy tomato sauce. This dish is hearty, aromatic, and bursting with goodness! So be prepared to savor the rustic flavors and comforting warmth of Chicken Cacciatore.
Enjoy!