Chicken Parmesan
Warm Classic Comfort: Chicken Parmesan
DINNERRECIPES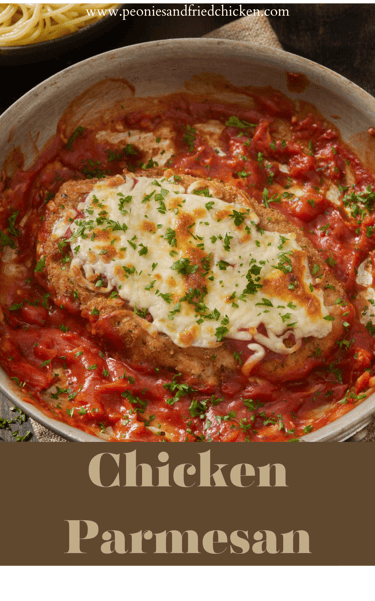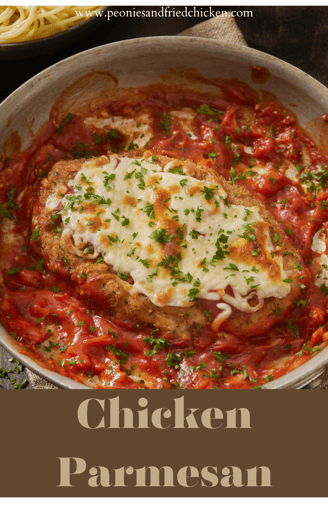 Chicken Parmesan
Ingredients:
Servings: 4 Total Time: 1 hr
2 boneless skinless chicken breasts
1/4 cup vegetable oil
1/2 cup flour
2 eggs
1 1/2 cups breadcrumbs
1/3 cup parmesan cheese
1 cup marinara sauce
1 1/2 cups mozzarella cheese
1 1/2 teaspoon seasoned salt
1/2 teaspoon garlic powder
1 teaspoon dried parsley
1 teaspoon dried oregano
salt
pepper
fresh parsley for garnish
Preparation
In a large bowl make your flour mixture by combining flour, seasoned salt, and pepper. In a separate bowl make your wet mixture by combining eggs and garlic powder. In a third bowl make your breading mixture, combine breadcrumbs, parmesan cheese, dried parsley, and dried oregano.

Take your 2 chicken breasts and slice them each in half lengthwise. Wrap the chicken in plastic wrap and then beat with a meat mallet to make the chicken breasts thin. Add some salt and pepper to each side of the 4 chicken slices.

Now take the chicken slices one at a time, dredge in the flour mixture first, then the egg mixture, and lastly in the breading mixture.

Once all 4 slices are coated, heat some oil in a pan over medium-high heat. Add your first chicken slice to the pan (depending on how big your skillet is you may be able to add 2 at a time but don't overcrowd). Cook each side for a couple of minutes, until golden. Once all the chicken slices are cooked place them on a wire rack.

Now place the chicken slices on a baking sheet. Top with marinara sauce and mozzarella cheese. Bake at 425 F for about 12 minutes. Then at the end broil for 1 minute. Remove from oven.

Garnish with fresh parsley. You can serve this over top of spaghetti or serve it alone.
Get ready for Italian elegance with our Chicken Parmesan recipe. We'll show you how to create a dish that's not only a classic Italian favorite but also a delightful blend of savory flavors and indulgent comfort. This dinner dish combines creamy marinara sauce, rich parmesan cheese, tender chicken breasts, and a range of aromatic herbs and spices. Join us in celebrating the rich tradition and flavors of Chicken Parmesan. It's sure to become a favorite in your home!
Enjoy!