Cinnamon Bourbon Old Fashioned
Warming Spirits: Crafting the Cinnamon Bourbon Old Fashioned
COCKTAILSFALL COCKTAILS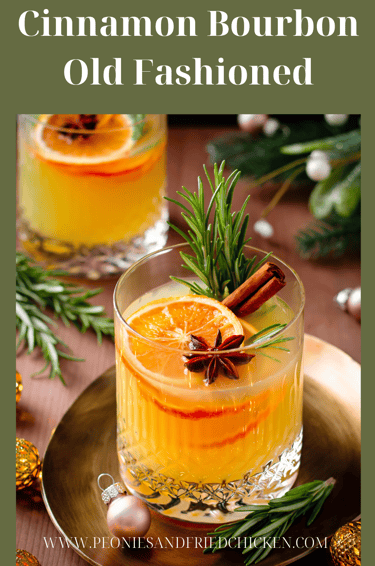 Cinnamon Bourbon Old Fashioned
Ingredients:
Makes 1
1/3 cup maple syrup
3 sprigs of rosemary
3 cinnamon sticks
2 oz. bourbon
1/4 cup orange juice
1 dash orange bitters
orange slices for garnish
Preparation
First, we have to make a cinnamon syrup. To make the cinnamon syrup, in a saucepan combine 1/3 cup water, maple syrup, 2 sprigs of rosemary, and 2 cinnamon sticks. Bring to a boil for about 5 minutes and then remove from heat and let cool.

In a cocktail shaker combine bourbon, orange juice, orange bitters, and 2 tablespoons of cinnamon syrup. Shake to well combine.

Strain the drink into a glass.

Garnish with 2-3 orange slices, a cinnamon stick, a sprig of rosemary, and a star anise.
Embark on a journey through rich flavors of tradition with a Cinnamon Bourbon Old Fashioned. This drink brings a warm and aromatic twist perfect for the season. Our cocktail combines smooth bourbon, rich maple syrup, warm cinnamon, and zesty flavors of orange. Join us in celebrating the tradition and innovations that this drink brings. It's a cocktail filled with bold flavors and perfect for sipping and savoring with friends and family!
Enjoy!