Cranberry Jello Shots
Tart and Tipsy: Cranberry Jello Shots for your next holiday gathering
COCKTAILSWINTER COCKTAILSHOLIDAY COCKTAILS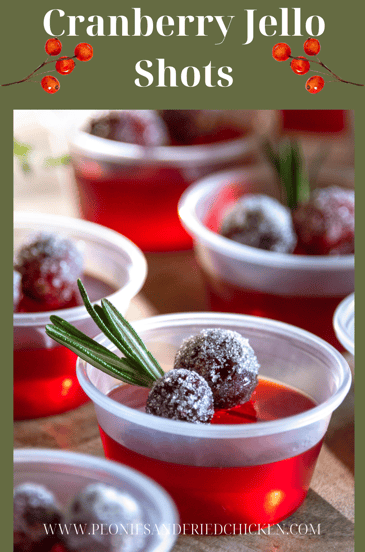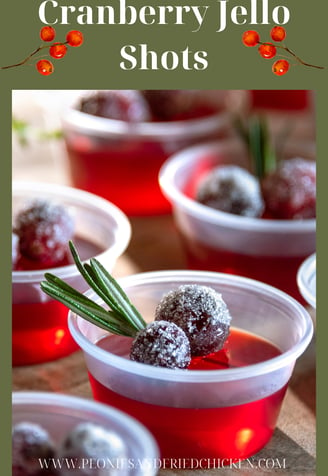 Cranberry Jello Shots
Ingredients:
Makes 12
1 (3 oz.) box Jell-O cranberry flavor
8 oz. vodka
12 2 oz. size plastic cups with lids
3 cups cranberries
1 1/2 cup sugar
1/2 cup water
sprigs of rosemary for garnish
Preparation
Prepare cranberry Jell-O according to the box.

Now add vodka to the Jell-O mixture and whisk until well combined.

Pour the cranberry jello shots mixture into your plastic cups leaving some room for garnishing. Then chill for at least 4 hours. Once chilled you can place the lids on if you wish.

To make the sugared cranberries, combine 1/2 cup water with 1/2 cup sugar in a saucepan. Bring to a boil and then let it simmer on low heat for about 3 minutes.

Now stir in the cranberries to fully coat in the syrup. Then remove from the heat and stir.

Remove cranberries from the sugar mixture and lay on a tray lined with parchment paper. Let the cranberries dry out on the tray for about 1 hour.

Now roll the cranberries in the remaining 1 cup of sugar.

Garnish each jello shot with about 2 sugared cranberries and a small sprig of rosemary.
Elevate your holiday celebrations with a burst of festive flavor with our Cranberry Jello Shots. Dive into the magic of cranberries, a holiday staple, as we combine them with tangy cranberry jello, smooth vodka, and aromatic rosemary. Whether you're hosting a cheerful gathering or simply looking to add a splash of holiday spirit to your festivities, this recipe has you covered! So, let's raise a toast to the joy and merriment of the season with our Cranberry Jello Shots. Cheers to celebrating with a sweet, tart twist!
Enjoy!