Creamy Pumpkin Pasta
Fall's Savory Comfort: Creamy Pumpkin Pasta
DINNERRECIPES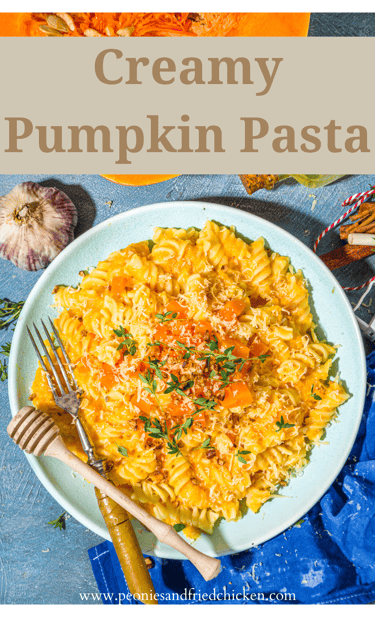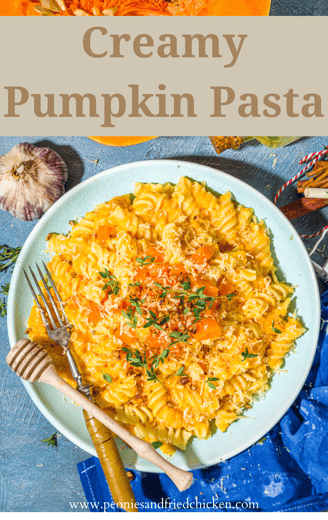 Creamy Pumpkin Pasta
Ingredients:
Servings: 4 Total Time: 1 hr
6 cups fusilli pasta
2 cups cubed pumpkin
1 tablespoon butter
1 cup milk
1 tablespoon olive oil
5 cloves minced garlic
15 oz. pumpkin puree
1 tablespoon apple cider vinegar
1 teaspoon dried oregano
1 teaspoon dried basil
1/2 teaspoon salt
1/2 teaspoon pepper
1 cup grated parmesan
Preparation
Start by cooking the pumpkin cubes. Melt 1 tablespoon of butter with 1 clove of minced garlic over medium heat. Sauté for a couple of minutes. Then add 2-3 ounces of boiling water and pumpkin cubes to the pan. Cook for 20- 30 minutes until the pumpkin cubes are soft.

Now make your fusilli pasta according to the box. While that is boiling make the pumpkin sauce.

To make the sauce in a pan over low heat add some olive oil and 4 cloves of minced garlic, sauté for a minute.

Add apple cider vinegar, pumpkin puree, oregano, basil, salt, and pepper. Stir to combine everything. Now add milk and cook for about 5 minutes. Then remove from heat.

Now mix the pasta in with the pumpkin sauce. Stir to combine well.

Plate your pasta. Add pumpkin cubes on top and grated parmesan cheese. Serve and enjoy!
Welcome to the cozy flavors of fall with our Creamy Pumpkin Pasta. This mouthwatering dish combines pasta in a rich, creamy pumpkin sauce topped with soft cubed pumpkin and fresh grated parmesan cheese. This comfort food dish is creamy, aromatic, easy, and bursting with flavor! Are you ready to savor the comforting embrace of fall with each bite of this delightful pasta? Well, join us in making this delicious pasta and celebrating the flavors of autumn with this Creamy Pumpkin Pasta!
Enjoy!