Creamy Tuscan Chicken
Creamy Tuscan Chicken: A Taste of Italy at Home
DINNERRECIPES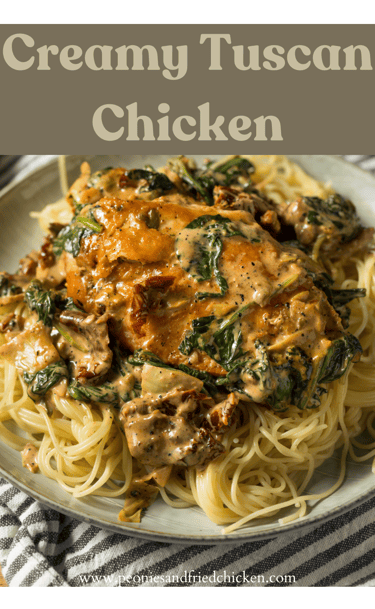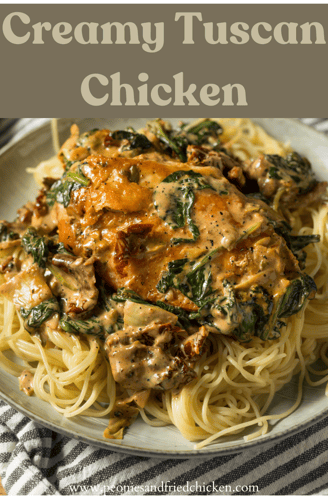 Creamy Tuscan Chicken
Ingredients:
Servings: 4 Total Time: 40 mins
4 boneless skinless chicken breasts
3/4 cup sun-dried tomatoes
2 cups spinach
1 1/2 cups heavy cream
1/4 cup grated parmesan
1/4 cup freshly shaved parmesan
1 teaspoon Italian seasoning
3 tablespoons olive oil
4 minced garlic cloves
1/4 cup finely diced yellow onion
salt
pepper
Preparation
Season both sides of all 4 chicken breasts with Italian seasoning, salt, and pepper. Then add 2 tablespoons olive oil into a skillet over medium heat. Sear the chicken breasts for about 4 minutes on each side. Then remove the chicken from heat.

Now add the onions to the skillet with a tablespoon of olive oil. Sauté the onions for a couple of minutes. Add in sun-dried tomatoes and minced garlic. Sauté for another couple of minutes. Then add in spinach until wilted.

Now add in the heavy cream and grated parmesan. Stir until well combined and let simmer for a couple of minutes.

Lastly, add the chicken breasts in and cook for about 5 more minutes.

Garnish with freshly shaved parmesan and serve.
Get ready to transport your taste buds to the heart of Tuscany with this Creamy Tuscan Chicken recipe! We'll show you how to create this impressive and delicious, yet easy dish that embodies the rich and rustic flavors of Italian cuisine. Join us in exploring the blend of tender Italian seasoned chicken, sun-dried tomatoes, fragrant garlic, hearty spinach, and a luscious creamy parmesan sauce. Be prepared to impress and win everybody over with this easy, simple, and elegant dish! So, cozy up, savor the flavors, and elevate your home-cooked meals with this Creamy Tuscan Chicken.
Enjoy!