French Onion Soup
Savory Comfort in a Bowl: The French Onion Soup
DINNERRECIPES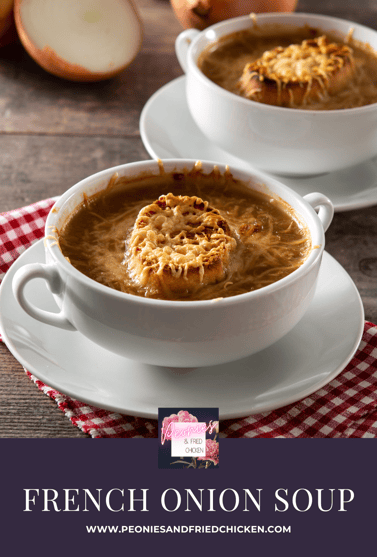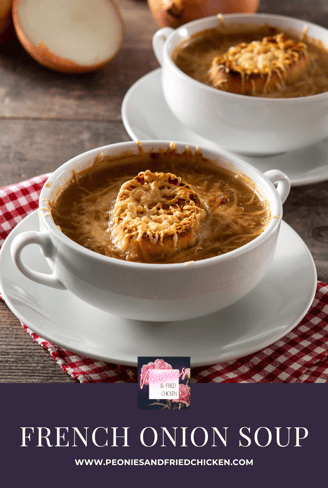 French Onion Soup
Ingredients:
Servings: 4 Total Time: 1 hr 20 mins
6 yellow onions
4 tablespoons olive oil
2 tablespoons butter
1 teaspoon sugar
2 cloves garlic
8 cups beef broth
1/2 cup dry white wine
2 bay leaves
1/2 teaspoon thyme
salt
pepper
2 tablespoons brandy
4 slices baguette
1 1/2 cup shredded gruyere cheese
Preparation
Start by peeling and thinly slicing the onions.

In a large pot on medium heat add 3 tablespoons olive oil and onions. Stir the onions often and let cook for about 2o minutes until soft.

Then increase the heat to medium-high and add in the rest of the olive oil and butter. Cook for about 30-40 minutes until the onions start to brown.

Now add in sugar and 1 teaspoon of salt to help caramelize the onions. Cook for 10 minutes. Then add in minced garlic and cook for another couple of minutes.

Add wine, beef broth, bay leaves, and thyme. Bring to a gentle boil, then lower the heat and cover the pot. Let simmer for about 3o minutes.

Now remove the bay leaves. Add in brandy and season with salt and pepper.

To toast the baguette cut the baguette into 4 pieces each 1-inch thick. Brush the baguette slices with olive oil. Then line a tray with parchment paper and place the baguettes on the tray. Toast in the oven for about 5 minutes to lightly brown. The remove from oven.

Pour your soup into oven-safe bowls. Place a baguette slice in every bowl of soup. Add the cheese on top and then place back into the oven on broil at 350 F for about 10 minutes, until the cheese is bubbly and golden.

Remove from oven and serve.
Savory comfort in a bowl, the classic French Onion Soup. Enter the cozy world of French cuisine as we dive into how to make this classic soup. This mouthwatering recipe shows you how to perfect caramelized onions while creating the perfect combination of aromatic spices, fresh white wine, and flavorful beef broth. So, join us this fall season in celebrating the savory, heartwarming essence of French Onion Soup. Get ready to savor the comfort, warmth, and timelessness of this dish!
Enjoy!