Golden Squash Soup
Golden Warmth: Delightful Squash Soup
DINNER RECIPES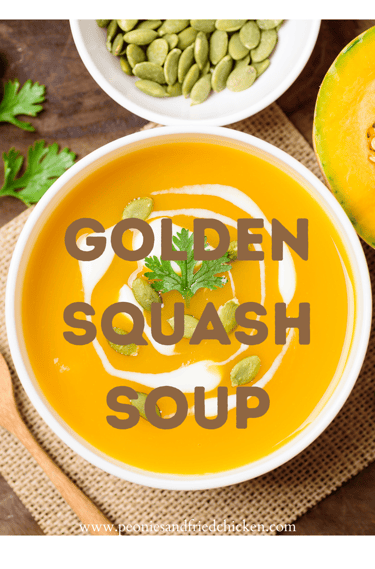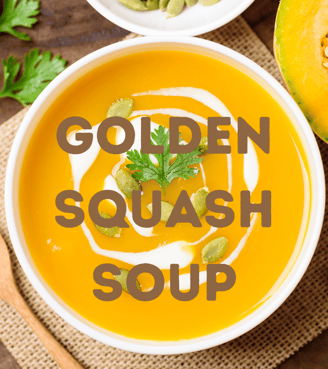 Golden Squash Soup
Ingredients:
Servings: 6 Total Time: 1 hr
3 lb. butternut squash
3 tablespoons olive oil
2 tablespoons butter
1 1/2 cup chopped yellow onion
6 cups vegetable broth
1 teaspoon salt
1/2 teaspoon pepper
1/8 teaspoon ground cinnamon
heavy cream for garnish
pumpkin seeds for garnish
Preparation
Start by roasting your butternut squash. Peel and cut the squash into 1-inch cubes. Place the cubes into a bowl and toss with olive oil, about 1/2 teaspoon salt, and 1/4 teaspoon pepper.

Spread the cubes out evenly on a tray lined with parchment paper. Bake in the oven at 400 F for 30 minutes. Then flip and bake for another 10-20 minutes until the squash is brown on the edges and caramelized.

Now melt the butter in a large pot on medium heat and add onions, salt, and pepper. Cook for about 10 minutes, until the onions are soft and becoming caramelized.

Add in roasted squash and cinnamon. Cook for about 3 minutes.

Add in vegetable broth and bring to a boil on high heat. Then reduce to low heat and let simmer for another 2 minutes.

Now puree everything in a blender until completely smooth.

Serve with a drizzle of heavy cream and a handful of pumpkin seeds for garnish.
Prepare for a journey filled with warmth and flavor as we delve into the world of the Golden Squash Soup. This recipe is your gateway to mastering this golden-hued delight, where butternut squash transforms into a velvety, savory soup! So, join us in celebrating the richness of this heartwarming soup that's perfect for a little comfort on a chilly day. Get ready to elevate your cooking skills and enjoy a creamy bowl of Golden Squash Soup.