Halloween Swirl Cream Cheese Brownies
Halloween Swirl Cream Cheese Brownies: A Spooky Sweet Treat
DESSERTSHOLIDAYRECIPES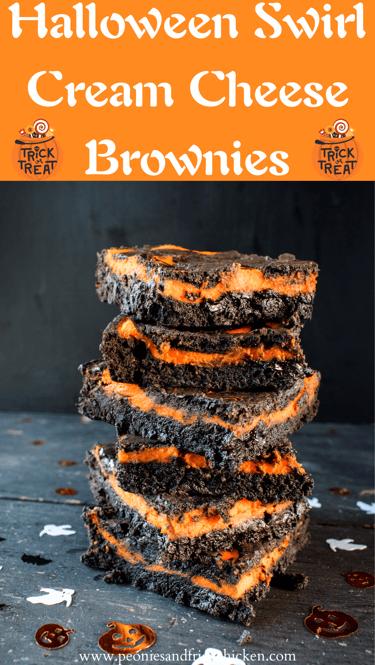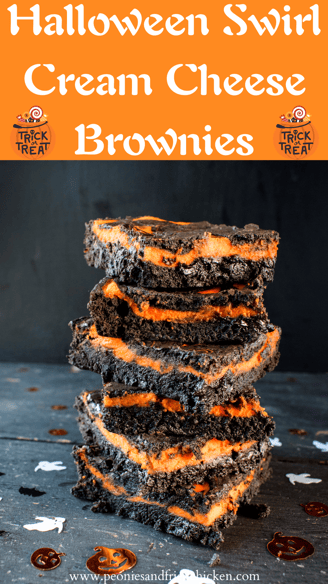 Halloween Swirl Cream Cheese Brownies
Ingredients:
Servings: 9 Total Time: 50 mins
1 1/4 cup granulated sugar
1/2 cup flour
1/2 cup cocoa powder
1/2 teaspoon salt
1/4 teaspoon baking powder
8 oz. cream cheese
2 eggs
1/3 cup vegetable oil
1 1/2 teaspoon vanilla extract
orange food coloring
Preparation
In a bowl combine 1 cup sugar, flour, cocoa powder, baking powder, and salt. Whisk to combine.

In a separate bowl combine 2 eggs, 1 teaspoon vanilla extract, and vegetable oil. Whisk to combine.

Combine the wet ingredients with the dry ingredients and whisk again until everything is well combined.

Set aside 1/4 cup of the brownie batter. Pour the rest of the batter into an 8 x 8 dish lined with parchment paper.

Now in a bowl combine cream cheese, 1/4 cup sugar, 1 egg, and 1/2 teaspoon vanilla extract. Stir until well combined. Then add in orange food coloring and stir again to combine.

Spread the cream cheese layer on top of the brownie batter.

Drop small spoonful's of the remaining brownie batter on top and then create swirls with a toothpick.

Bake at 350 F for 35 minutes. Remove from oven and allow to cool.
What better way to dive into the bewitching world of Halloween than with our Halloween Swirl Cream Cheese Brownies?! These mesmerizing and indulgent treats are perfect for adding a touch of spookiness to any Halloween party. The festive snacks combine swirls of cream cheese on top of a rich brownie batter, creating a beautiful, marbled effect that looks impressive! So, join us in savoring the sweet and spooky delights of the season with every bite of our creamy and fudgy Halloween Swirl Cream Cheese Brownies.
Enjoy!