Homemade Elderflower Gin Fizz
Blossoms in a Glass: Our Delightful Homemade Elderflower Gin Fizz
COCKTAILS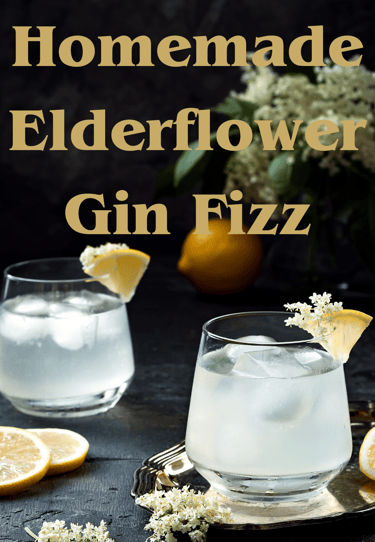 Homemade Elderflower Gin Fizz
Ingredients:
Makes 4
10 cups sugar
1 lemon
10 elderflower heads
1 1/2 oz. citric acid
5 oz. gin
3 tablespoons lemon juice
sparkling water
lemon slices for garnish
fresh elderflower for garnish
Preparation
To make homemade elderflower cordial, place the sugar in a saucepan with about 6 cups of water. Heat the mixture to a slight boil until the sugar dissolves. Then reduce heat to low.

Peel the skin off 1 lemon and then cut the lemon into slices. Add both the lemon peel and lemon slices into the saucepan.

Now take your elderflower and gently rinse them off. Then add the elderflower to the sugar mixture.

Now add the citric acid to the mixture. Stir to combine.

Let the mixture sit for 24 hours to infuse.

Once infused, take a strainer and line it with a cheesecloth. Then discard what is left in the cheesecloth. Now you can store your homemade elderflower cordial in sealed glass jars (this will make 8 cups of elderflower cordial).

Now to make the cocktails mix together 1/2 cup of the elderflower cordial, gin, lemon juice, and lemon slices in a pitcher with ice.

Top with sparkling water. Stir gently to combine.

Pour into 6 serving glasses and garnish each one with a lemon slice and a fresh elderflower.

Fresh floral elegance in a glass. That's the best way to describe our Homemade Elderflower Gin Fizz cocktail! Immerse yourself in a harmonious blend as we first show you home to make your own elderflower cordial with fresh elderflower, citrusy lemon, and sweet sugar with a touch of citric acid. To make the refreshing fizzy cocktail we of course combine our homemade elderflower cordial with botanical gin, and tangy lemon with a touch a bubbly sparkling water. So, get ready to take your cocktail game to a whole new level with us with our Homemade Elderflower Gin Fizz.