Homemade Stuffing
Savoring the Season: Crafting Irresistible Homemade Stuffing
DINNERHOLIDAYRECIPES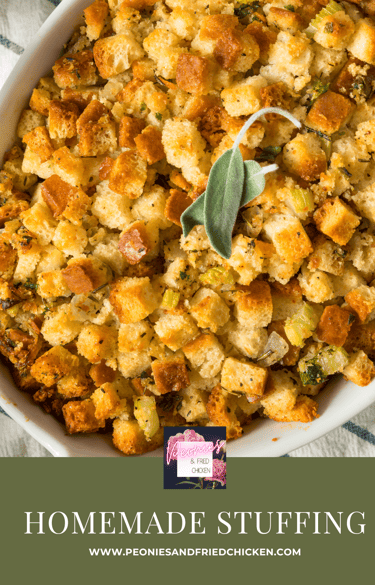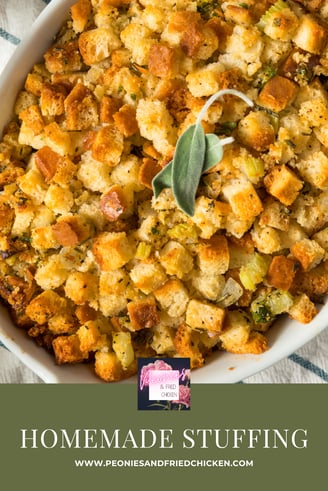 Homemade Stuffing
Ingredients:
Servings: 10 Total Time: 1 hr
1 lb. bread
2 cups chicken broth
2 eggs
2 cups diced yellow onion
1 1/2 cups chopped celery
3/4 cup unsalted butter
1/4 cup chopped parsley
1 tablespoon fresh sage
1 tablespoon rosemary
1 tablespoon thyme
salt
pepper
Preparation
Start by cutting the bread into 1-inch cubes. Then lay the bread cubes on a baking tray and toast them in the oven at 250 F for 50-60 minutes. Stir them occasionally while in the oven. Then place the bread cubes in a bowl.

In a pan melt the butter and add onions and celery. Sauté for a couple of minutes. Then pour the mixture in the bowl with the bread cubes. Add parsley, sage, rosemary, thyme, salt, and pepper in the bowl and stir until the bread cubes are well coated.

In a separate bowl whisk the eggs with the chicken broth. Then pour into the bowl with the bread cubes. Stir one more time until well combined.

Spray a 9 x 13 baking dish with some cooking spray. Then pour the stuffing into the baking dish and cover with aluminum foil. Bake at 350 F for about 35 minutes. Then remove foil and bake for about another 15 minutes.
Delve into the heart of the festive season with some Homemade Stuffing. A savory delight that embodies the essence of tradition and warmth. This staple dish is perfect for the holiday season or to be served with any home-cooked meal. This recipe is sure to be a staple in your family! It blends bread, aromatic herbs, and savory spices for a variety of flavors. So, whether it's for Thanksgiving dinner or just a nice family dinner night, enjoy the comfort that homemade stuffing brings.
Enjoy!