Jalapeño Popper Mummies
Jalapeño Popper Mummies: Spicy, Fun, and Eerily Delicious
DINNERSNACKSHOLIDAYRECIPES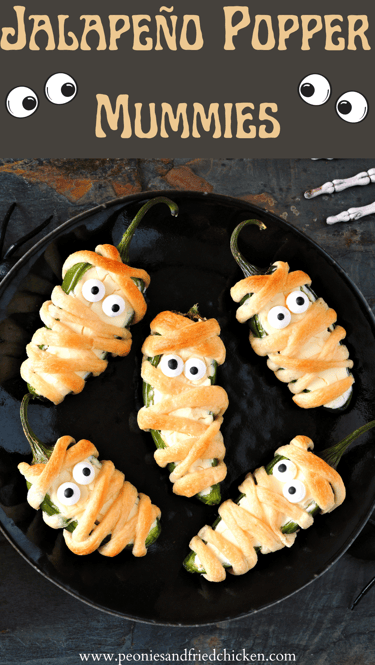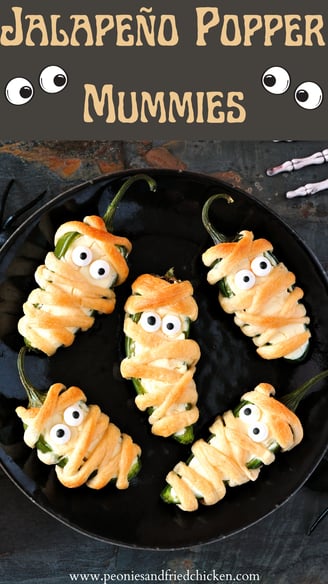 Jalapeño Popper Mummies
Ingredients:
Servings: 20 Total Time: 45 mins
10 Jalapeño
8 oz. cream cheese
8 oz. shredded colby jack cheese
1 teaspoon garlic powder
1/2 teaspoon onion powder
12 oz. crescent rolls
1 egg
salt
pepper
40 candy eyes
Preparation
Cut your jalapeños in half lengthwise and remove the seeds.

In a bowl combine cream cheese, colby jack cheese, garlic powder, onion powder, salt, and pepper. Mix until combined.

Now add the cream cheese mixture into the jalapeños.

Unroll the crescent rolls and divide them into 4 rectangles. Then slice all 4 rectangles lengthwise into 10 strips.

Wrap each jalapeño with 2 strips of the crescent roll dough.

Place the jalapeños on a baking tray lined with parchment paper. Whisk the egg in a bowl and then brush the egg wash onto the dough.

Bake at 400 F for about 13 minutes, until they start to get a light golden.

Remove from oven and place 2 candy eyes on each.
Get ready to have some delicious fun with these Jalapeño Popper Mummies this spooky season! These are perfect snacks for any Halloween party and they can be made in under an hour. They're so simple and made by wrapping jalapeños in a flaky buttery pastry topped with fun candy eyes. They're spicy, flavorful, playful, and festive, what's not to like?! So, let's have some fun this season with these treats that not only pack a spicy punch but look impressive.
Enjoy!