Loaded Baked Potato Soup
Hearty Indulgence: Crafting the Loaded Baked Potato Soup
DINNER RECIPES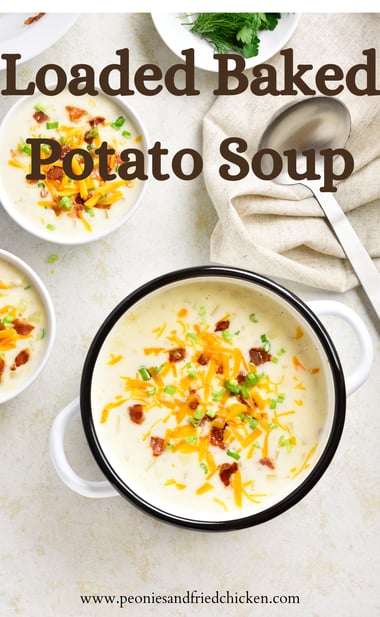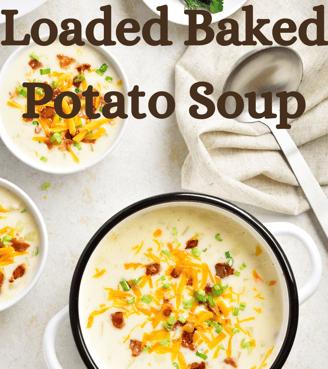 Loaded Baked Potato Soup
Ingredients:
Servings: 8 Total Time: 35 mins
4 gold potatoes
8 bacon slices
4 tablespoons butter
2 garlic cloves
1/4 cup yellow onion
1/3 cup flour
2 cups milk
1 cup heavy cream
2 cups broth
1/2 teaspoon garlic salt
salt
pepper
2 cups cheddar cheese
1 cup sour cream
chives for garnish
Preparation
Start by poking holes in the potatoes. Then microwave each for about 10 minutes. Then let cool, peel off the skin, and cut them into chunks.

Next, cook the bacon in a skillet over medium-high heat until the bacon is crispy. Transfer to a plate with a paper towel on it (reserve about 1 tablespoon of bacon fat). Once the bacon has cooled, crumble it into pieces for garnish.

In a large pot melt butter over medium heat. Add the reserved bacon fat, chopped garlic cloves, and onion for about 3 minutes.

Slowly whisk the flour in and then the milk and heavy cream. Whisk until smooth and everything is combined.

Now add broth and bring to a simmer. Then add salt, pepper, and garlic salt. Let that simmer for about 5 minutes until the mixture has thickened.

Stir in the sour cream, 1 1/2 cups of cheese, and half of the cooked bacon.

When ready to serve scoop soup into each bowl and garnish each bowl with some of the remaining bacon, shredded cheese, and fresh-cut chives.
Is there anything better than this delicious and filling Loaded Baked Potato Soup during the cold months? This soup can be thrown together quickly so you can enjoy a heartwarming delicious meal in no time! This creamy goodness combines potatoes, juicy bacon, rich sour cream, and pungent cheddar cheese mixed with an array of seasonings and flavors. Get ready to savor the richness of flavors and embark on a culinary journey that will redefine your love for soup. So, cozy up with family and friends during the fall and winter season and enjoy some Loaded Baked Potato Soup.