Maple Glazed Pecan Scones
Savoring Autumn: Maple Glazed Pecan Scones
DESSERTS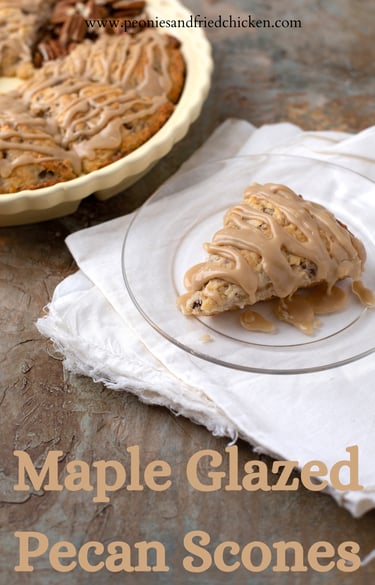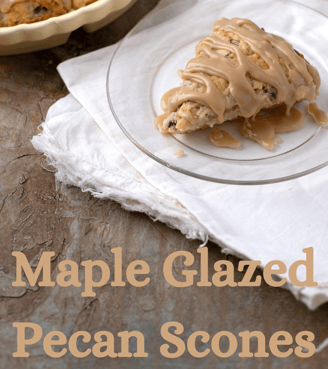 Maple Glazed Pecan Scones
Ingredients:
Servings: 8 Total Time: 50 mins
1 1/4 cup heavy cream
10 tablespoons butter
2 cups flour
1/4 cup sugar
1 tablespoon baking powder
1/2 cup chopped pecans
1/2 teaspoon salt
2 tablespoons maple syrup
2 tablespoons dark brown sugar
3/4 cup confectioners' sugar
1 teaspoon vanilla
Preparation
Take 1 cup of heavy cream and place in the freezer for at least 10 minutes.

Combine flour, baking powder, sugar, salt, and pecans in a mixing bowl.

Melt 8 tablespoons of butter. Add butter and chilled heavy cream to the dry ingredients in the mixing bowl. Stir to well combine.

Now flour a work surface. Add dough to the work surface and roll the dough in the flour. Knead the dough for about 30 seconds. Then shape the dough into a 6-inch circle.

Cut dough into 8 equal pie-shaped pieces. Transfer scones to a baking sheet lined with parchment paper.

Brush the top of the scones with some heavy cream.

Bake at 400 F for 15-20 minutes. Then remove from oven and let cool.

To make the maple glaze icing combine the remaining 3 tablespoons heavy cream, maple syrup, 2 tablespoons butter, and dark brown sugar. Microwave for 1 minute, whisk, then cook for 1 more minute.

Then add confectioners' sugar and vanilla. Stir to combine.

Drizzle the maple glaze over the scones.
Embrace the cozy flavors of autumn with our Maple Glazed Pecan Scones. This recipe captures the essence of fall and celebrates the warm and cozy flavors of the season. We combine a harmonious blend of pecans, rich maple syrup, sweet powdered sugar, and thick heavy cream. These scones will become a seasonal favorite for your family and friends! You can enjoy these scones as a savory breakfast or a warm treat! So, get ready to savor the comfort of autumn with these Maple Glazed Pecan Scones and fill your home with the aroma of fall!