Mummies in a Blanket
Twist on the classic Pigs-in-a-Blanket. Halloween fun for the whole family
DINNERSNACKSHOLIDAYRECIPES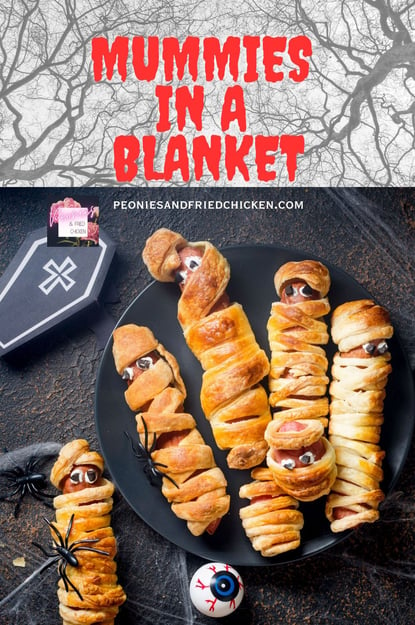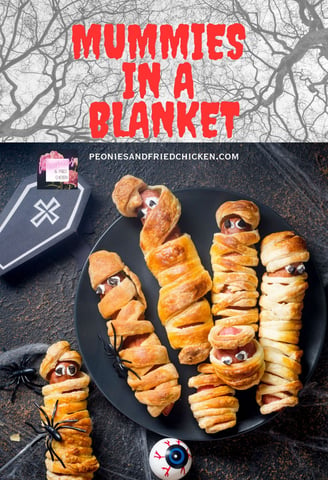 Mummies in a Blanket
Ingredients:
Servings: 10 Total Time: 35 mins
10 hot dogs
1 can crescent dough
1 egg
flour
candy eyeballs
Preparation
Heat your oven to 375F and line a large baking sheet with parchment paper. Set aside.

Roll out the crescent roll dough on a lightly floured surface and press the perforations to seal it into one long rectangle. Cut into thin (¼" thick) slices.

Wrap the hot dogs with the crescent dough (make sure to leave a space for the eyes). Crack the egg in a bowl and beat the egg. Then brush the beaten egg onto the dough. Then place them on the baking sheet.

Bake until the dough becomes golden brown- about 12-14 minutes.

Right when the mummies come out of the oven, add a little ketchup to the back of the eyes and place the candy eyes on the mummies.
Halloween snack for children. Get ready to turn your kitchen into a playful Halloween laboratory with this Mummies in a Blanket recipe. A fun twist on an old classic, pigs-in-a-blanket. Everyone participates in the age-old tradition of costume, including the food. This eerie and fun, yet delicious recipe is the perfect snack for celebrating the spookiest holiday of the year. Elevate your Halloween party game and enjoy the delights of Halloween with every bite of the Mummies in a Blanket.
Enjoy!