Peppermint Bark Mimosa
Festive Sips: The Peppermint Bark Mimosa
COCKTAILSWINTER COCKTAILSHOLIDAY COCKTAILS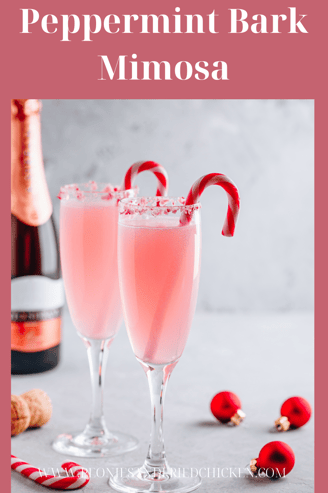 Peppermint Bark Mimosa
Ingredients:
Makes 3
3 oz. peppermint vodka
375 ml champagne
4 candy canes
Preparation
Start by taking one candy cane and crushing it in a ziploc bag. Then place the crushed candy cane on a plate. Wet the rim of the champagne glasses. Then roll the rim of the glass in the crushed candy cane crumbs, making sure to fully and evenly coat.

Add 1 ounce of peppermint vodka to each champagne glass. Then top each glass with champagne.

To garnish place a candy cane in each glass.
Unwrap the magic of the holiday season with our Peppermint Bark Mimosa cocktail. We show you how to create a delightful and bubbly drink that captures the essence of winter's favorite treat. This Christmas cocktail combines sweet flavorful peppermint vodka and elegant champagne, all garnished with a festive candy cane. Get ready to elevate your holiday celebrations with a drink that is perfect for brunch, a holiday party, or simply sipping on a cold snowy night. So, join us in celebrating the season's cheer with the Peppermint Bark Mimosa.
Enjoy!