Peppermint Martini
Merry and Minty: Crafting our Christmas Peppermint Martini
COCKTAILSWINTER COCKTAILSHOLIDAY COCKTAILS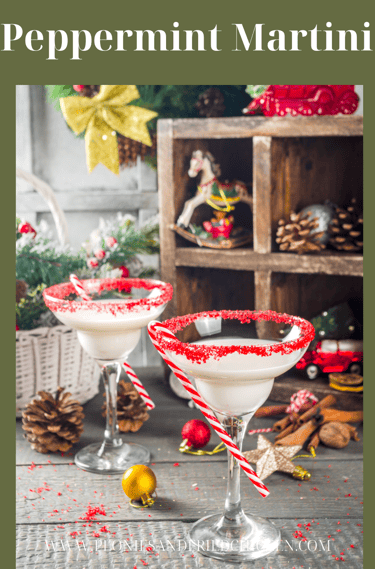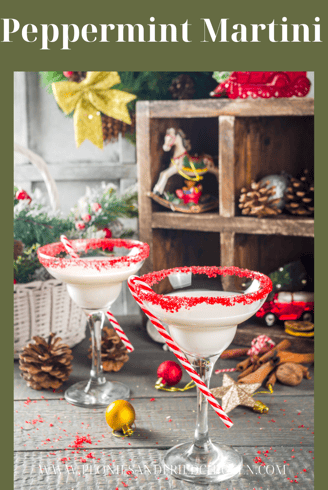 Peppermint Martini
Ingredients:
Makes 1
2 oz. white chocolate liqueur
1 oz. vanilla vodka
1 oz. half-and-half
1/4 teaspoon peppermint extract
3 peppermint candy canes
sugar
Preparation
Start by rimming the martini glass. Place 2 candy canes in a sealed ziploc bag. Take a rolling pin and smash until you have a coarse powder.

Now in a bowl mix 1 1/2 tablespoons of sugar with 1 tablespoon of water. Dip the rim of the glass in the wet sugar mixture and then into the crushed candy cane powder until the rim of the glass is fully coated.

In a cocktail shaker with ice combine white chocolate liqueur, vanilla vodka, half-and-half, and peppermint extract. Shake until well combined.

Strain the drink into your prepared martini glass.

Garnish with a candy cane.
Embrace the enchanting flavors of the holiday season with our Peppermint Martini cocktail. This mouthwatering cocktail combines the classic sophistication of a martini with the festive charm of peppermint. To craft this delightful yuletide drink we combine rich white chocolate liqueur and flavorful vanilla vodka with of course the beautiful minty taste of peppermint. Raise a glass with us and toast to the joy, merriment, and the taste of the holidays. Cheers to a season filled with Christmas Peppermint Martini's.
Enjoy!