Pink Peppermint Martini
Pink Christmas: Crafting a Festive Pink Peppermint Martini
COCKTAILSWINTER COCKTAILSHOLIDAY COCKTAILS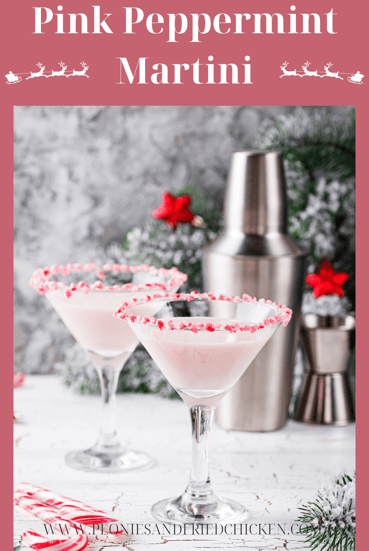 Pink Peppermint Martini
Ingredients:
Makes 2
4 oz. peppermint vodka
4 oz. white creme de cacao
1 oz. cream
1 candy cane
Preparation
Place the candy cane in a plastic bag and crush it with a rolling pin. Then place the crushed candy cane on a plate. Rim the glasses with a little bit of peppermint vodka, then dip the glasses in the crushed candy cane.

In a cocktail shaker with ice combine peppermint vodka, white creme de cacao, and cream. Shake until well combined.

Pour into each of the prepared glasses.
Step into the world of elegance and merriment with a Pink Peppermint Martini. This cocktail will not only delight your taste buds but also add a pink stylish and festive touch to your Christmas celebrations. In this recipe we show you how to combine minty peppermint vodka, flavorful white creme de cacao, and cream, all in a festive candy cane rimmed glass. So, celebrate the chic and festive vibes of the Pink Peppermint Martini. Cheers to the joy of festive sipping and have a Merry Christmas!
Enjoy!