Pumpkin Coffee Cake
The Perfect Pairing for Fall: Pumpkin Coffee Cake
BREAKFASTRECIPES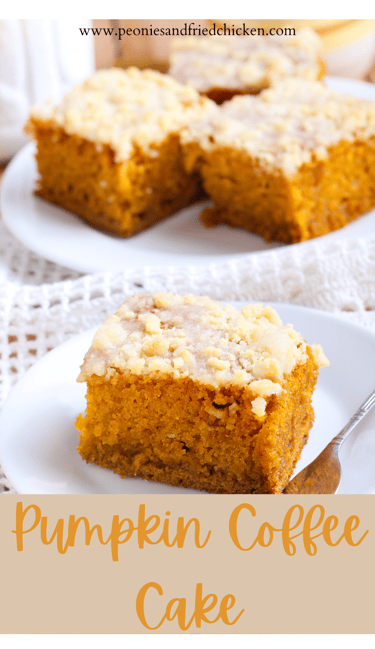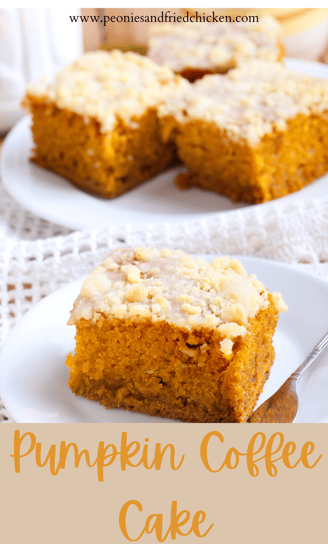 Pumpkin Coffee Cake
Ingredients:
Servings: 9 Total Time: 1 hr
1 cup flour
3/4 teaspoon baking powder
1/4 teaspoon baking soda
1 tablespoon vegetable oil
1 cup pumpkin puree
1/2 teaspoon salt
3/4 teaspoon ground cinnamon
1/8 teaspoon ground nutmeg
1/8 teaspoon pumpkin pie spice
1/2 cup sugar
1/2 cup light brown sugar
2 oz. cream cheese
2 eggs
1/8 cup milk
1/3 sugar
2/3 cup flour
4 tablespoons salted butter
Preparation
In a mixing bowl combine 1 cup flour, baking powder, and baking soda. Whisk to combine.

In a pot on medium heat add 1 tablespoon vegetable oil. Then add pumpkin puree, salt, cinnamon, nutmeg, and pumpkin pie spice. Stir for about 5 minutes then remove from heat.

Once removed from heat add 1/2 cup sugar, light brown sugar, and cream cheese. Stir to combine and then let cool.

In a separate mixing bowl combine milk and eggs. Whisk together and then combine with the pumpkin puree mixture.

Now mix the flour mixture in with the pumpkin puree mixture.

Pour the mixture into a baking pan lined with parchment paper.

To make the streusel mixture combine 1/3 cup sugar, 2/3 cup flour, and salted butter. Mix together with a fork until it forms crumbles. Then sprinkle the streusel mixture on top of the batter.

Bake at 350 F for 35 minutes. Once cooked allow to cool for a combine of minutes. Then serve.
Indulge in the cozy flavors of autumn for breakfast with our Pumpkin Coffee Cake. We'll show you how to make the perfect coffee cake that complements the crisp air and falling leaves of the season. This irresistible breakfast treat combines a moist pumpkin-infused cake with aromatic spices and a crumbly streusel topping. Pair the comforting flavors of fall coffee cake with your morning coffee or tea and savor the taste of the season. So, let's celebrate the cozy flavors of autumn and get baking this delectable Pumpkin Coffee Cake!
Enjoy!