Pumpkin Cupcakes
Baking the Perfect Autumn Treat: Pumpkin Cupcakes with Brown Butter Frosting
DESSERTSRECIPES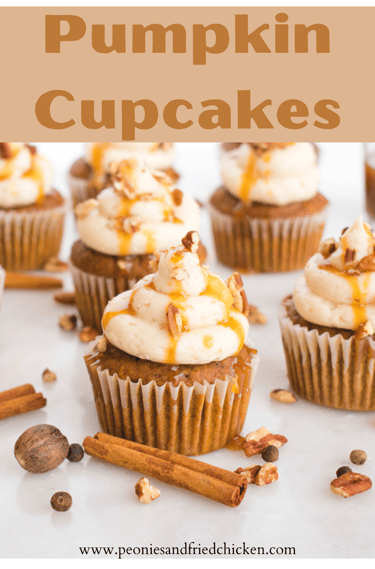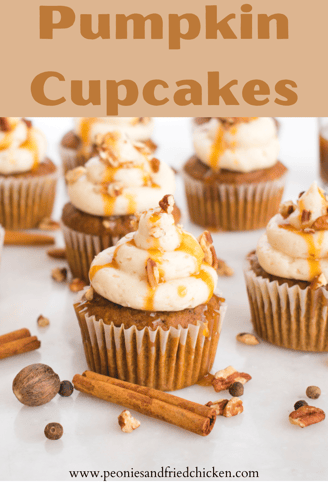 Pumpkin Cupcakes
Ingredients:
Servings: 12 Total Time: 1 hr 40 mins
1 1/2 cups flour
1 teaspoon baking powder
1/2 teaspoon baking soda
2 teaspoon ground cinnamon
1 1/2 teaspoons pumpkin pie spice
1/2 cup white sugar
1/2 cup dark brown sugar
1/2 teaspoon salt
1/2 cup vegetable oil
1 1/2 cup pumpkin puree
3 teaspoons vanilla extract
2 eggs
1 stick unsalted butter
8 oz. cream cheese
4 cups powdered sugar
Preparation
Start by making the cupcakes. In a mixing bowl combine flour, baking powder, baking soda, cinnamon, pumpkin pie spice, and 1/4 teaspoon salt. Whisk to combine.

In a separate mixing bowl combine white sugar, brown sugar, vegetable oil, pumpkin puree, eggs, and 2 teaspoons vanilla extract. Whisk to combine.

Now pour the dry ingredients in with the wet ingredients. Mix until well combined.

Now divide the batter and start scooping into your cupcake pan. Then bake at 350 F for 17 minutes.

Now to make the frosting, place your stick of butter in a skillet over medium heat. Cook until butter is completely melted, then just continue to stir and scrap the bottom of the pan. Once pieces of butter at the bottom start to turn brown then remove from heat. Then transfer the browned butter to a bowl and allow to cool.

Once the butter has completely cooled, but is not cold, combine cream cheese. Use a hand mixer to cream the mixture together.

Then stir in 1 teaspoon vanilla extract and 1/4 teaspoon salt.

Now slowly stir your powdered sugar in, 1/2 cup at a time, until all of it has been added. You can store frosting in the fridge until ready to use.

Once ready to use, add the frosting to a piping bag and evenly pipe onto each cupcake. Then drizzle with caramel syrup and garnish with some chopped nuts. Serve and enjoy!
Get ready for a delightful adventure into the flavors of fall with our Pumpkin Cupcakes recipe. These sweet treats might take some time to make but they're so worth it once you take your first bite! They combine a fusion of creamy pumpkin-infused batter with aromatic spices, all topped with silky, decadent brown butter frosting. They're moist, spiced, and bursting with pumpkin goodness, what else could you want?! So, let's celebrate the flavors and elevate your baking skills with our Pumpkin Cupcakes, perfect for Halloween parties and festive gatherings!
Enjoy!