Pumpkin Pie
Fall's Sweetest Tradition: Pumpkin Pie
DESSERTS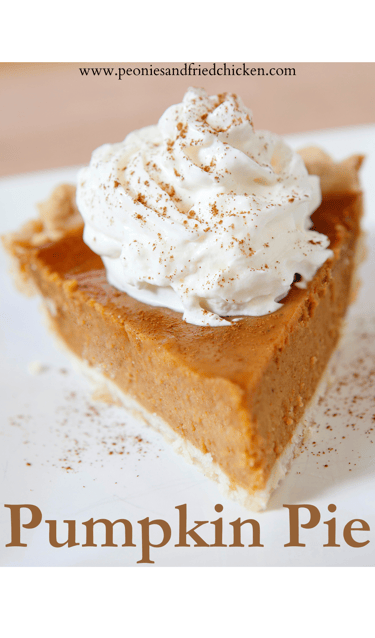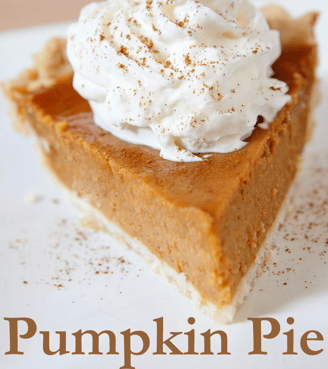 Pumpkin Pie
Ingredients:
Servings: 8 Total Time: 1 hr
15 oz. can pumpkin puree
12 oz. can evaporated milk
3/4 cup light brown sugar
1 teaspoon ground cinnamon
1/2 teaspoon salt
1/2 teaspoon ground ginger
1/4 teaspoon ground cloves
2 eggs
9-inch deep dish pie crust
Preparation
Preheat oven to 425 F. While the oven is preheating place a baking sheet in the oven upside down.

In a mixing bowl combine sugar, salt, ground cinnamon, ginger, and cloves. Mix to combine.

In a separate bowl whisk the eggs. Then whisk in pumpkin puree and the sugar spice mixture. Then slowly whisk in the evaporated milk. Making sure everything is well combined.

Pour the mixture into the pie crust. Then pull the baking sheet out of the oven and place the pie crust onto the hot baking sheet.

Bake at 425 F for 15 minutes. Then reduce the temperature to 350 F and bake for 45 minutes.

Remove the pie from the oven and let cool.

Garnish with whipped cream and a sprinkle of ground cinnamon.
Embrace the cozy vibes of autumn with the classic heartwarming Pumpkin Pie. To create this mouthwatering tradition, we combine a creamy spiced pumpkin filling made from pumpkin puree, sugar, and spices all in a flaky pie crust topped with whipped cream. This festive dessert always hits the spot, with the flavors of fall making you feel cozy! Be prepared to savor the warmth and nostalgia with every slice. So, join us in celebrating the sweetest tradition of the season with the perfect Pumpkin Pie.