Scalloped Potatoes
Delicious Cheesy Layers: Homemade Scalloped Potatoes
DINNERHOLIDAYRECIPES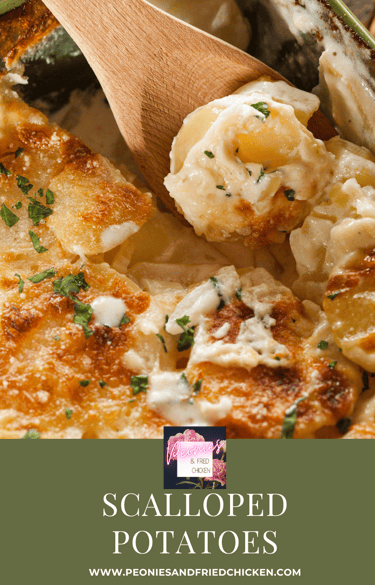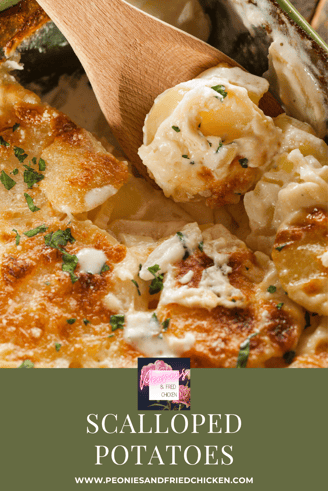 Scalloped Potatoes
Ingredients:
Servings: 10 Total Time: 1 hr 45 mins
2 lb. russett potatoes
2 cups shredded cheddar cheese
1 cup chicken broth
3 tablespoons butter
2 cups heavy cream
3 tablespoons flour
3 minced garlic cloves
chopped parlsey
salt
pepper
Preparation
In a skillet over medium heat, melt butter. Add in garlic and cook for 1 minute. Then add in flour and heavy cream. Whisk to combine and cook for 2-3 minutes. Lastly, add in chicken broth, salt, and pepper. Let cook for about 5 minutes then remove from heat.

Peel potatoes and cut into thin slices.

In a casserole dish add a thin layer of sauce. Then a thin layer of potatoes, and more sauce on top. Then add cheese. Repeat 3 times or until your dish is full.

Bake at 400 F for 1 hour and 20 minutes. Then remove from oven and let cool.
Step into the world of delicious, layered comfort with homemade Scallop Potatoes. This dish is a classic favorite and symbol of creamy goodness. Made by layering thinly sliced potatoes and creamy sauce with rich gooey cheese. This side dish evokes the essence of home-cooked comfort. It's also perfect to serve for Thanksgiving dinner! So, let's celebrate the simplicity and tradition of Scalloped Potatoes together this season!
Enjoy!