Sex on the Beach
Sip into Paradise with the Sensational Sex on the Beach
COCKTAILS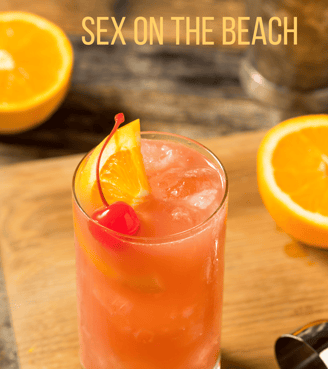 Sex on the Beach
Ingredients:
Makes 1
1 oz. vodka
3 oz. cranberry juice
1 oz. peach schnapps
3 oz. orange juice
orange slice for garnish
maraschino cherry for garnish
Preparation
Grab a tall glass and fill it with ice. Pour the vodka and peach schnapps in.

Add your orange juice and cranberry juice on top. Lightly stir to combine.

Garnish with an orange slice and maraschino cherry.
Explore the seductive allure of the Sex on the Beach Cocktail. This iconic cocktail embodies the spirit of carefree summer days. Immerse in the flavors of tangy orange juice with cranberry juice mixed with the flavor of peaches, all kissed by a touch of vodka. Transport to a sun-kissed paradise with the vibrant colors and sensual flavors of this cocktail. Get ready to stir, sip and tease your palate with the playful Sex on the Beach.