Shepherd's Pie
Classic Comfort: The Shepherd's Pie
DINNERRECIPES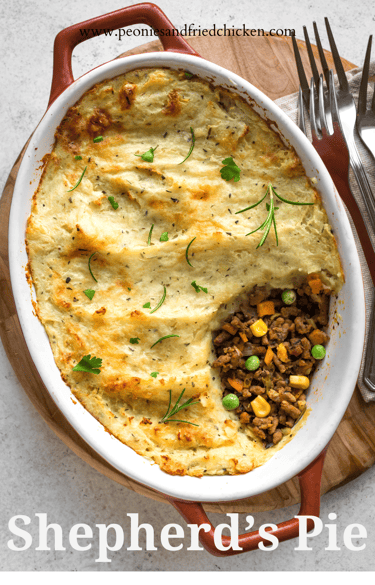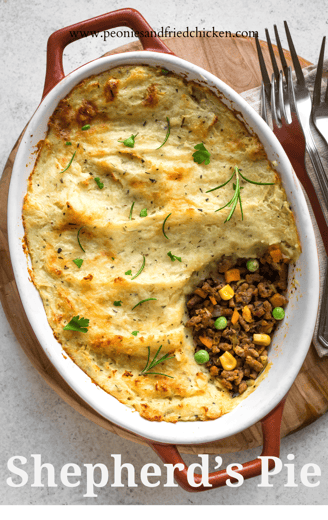 Shepherd's Pie
Ingredients:
Servings: 6 Total Time: 1 hr
1 1/2 lb. ground beef
1 cup chicken broth
2 tablespoons olive oil
1 yellow onion, diced
1 cup frozen peas
3 minced garlic cloves
2 carrots, diced
2 celery stalks, diced
1 1/2 tablespoons tomato paste
1 tablespoon worcestershire sauce
2 teaspoons fresh rosemary
1 teaspoon fresh thyme
2 lb. russet potatoes, cubed
1/2 cup milk
1/4 cup butter
salt
pepper
fresh parsley for garnish
fresh rosemary for garnish
Preparation
Place your peeled and cubed potatoes in a pot and cook until fork tender.

Strain the potatoes in a colander, then transfer them back to the pot. Add milk, butter, salt, and pepper. Mash until creamy.

In an oven-safe dish over medium heat add olive oil, diced onion, and garlic. Cook for a minute and then add in diced carrots, diced celery, and ground beef. Cook for about 10 minutes until the beef is browned.

Drain the fat from the beef. Then add broth, tomato paste, worcestershire sauce, rosemary, thyme, salt, and pepper. Simmer for about 5 minutes.

Now add in peas and stir everything together. Then flatten everything down in the dish with a spatula.

Dollop the mashed potatoes on top of the dish. Spread the mashed potatoes to completely cover the beef mixture.

Bake at 400 F for about 3o minutes. To achieve more of a golden brown on top you can broil for a minute or so.

Garnish with fresh parsley and fresh rosemary on top.
Step into the world of timeless comfort food with a Shepherd's Pie. Join us in creating this classic dish that combines seasoned ground meat, an array of hearty vegetables, creamy mashed potatoes, and aromatic herbs and spices. This recipe is so hearty and easy to put together you'll be making it all season! This dish will keep you warm and happy all fall and winter long. So, get ready to savor the heartwarming flavors and the spirit of hearty traditions with the classic comforting Shepherd's Pie.
Enjoy!