Spiced Cranberry Grapefruit Punch
Spice Up You're Season with Our Spiced Cranberry Grapefruit Punch
COCKTAILSFALL COCKTAILS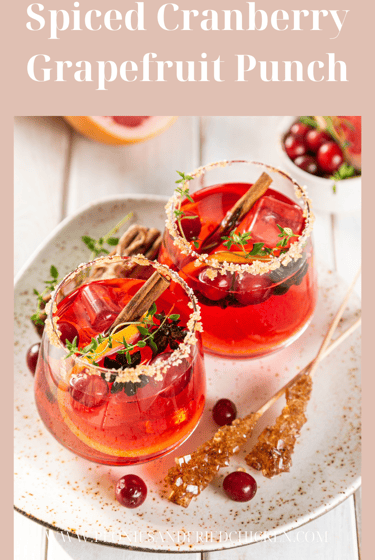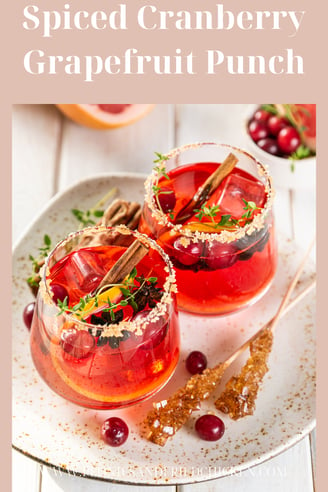 Spiced Cranberry Grapefruit Punch
Ingredients:
Makes 9
16 oz. cranberry juice
8 oz. grapefruit juice
2 oz. orange juice
12 oz. sparkling apple cider
34 oz. ginger ale
5 oz. vodka
light brown sugar
fresh cranberries for garnish
orange slices for garnish
cinnamon sticks for garnish
sprigs of thyme for garnish
Preparation
In a punch bowl combine cranberry juice, grapefruit juice, orange juice, sparkling apple cider, ginger ale, and vodka. Stir to combine.

Optionally you can rim the glass in light brown sugar. Take some apple cider and wet the rim of the glass, then rub it in the brown sugar to fully coat the rim of the glass.

Now divide the punch into 9 glasses and in each glass garnish with an orange slice, a couple of fresh cranberries, a cinnamon stick, and a sprig of thyme.
A festive cheer to our Spiced Cranberry Grapefruit Punch cocktail. This drink is your ticket to a vibrant, festive, and unforgettable Thanksgiving gathering this year! We'll unveil how to craft the perfect blend of zesty grapefruit and cranberry juice, with the tang of orange juice and the warmth of apple cider, with a touch of smooth vodka to make the perfect fall punch. It doesn't matter if you're hosting a grand fest or a cozy intimate family dinner, our Spiced Cranberry Grapefruit Punch is the go-to cocktail for Thanksgiving.
Enjoy!