Spicy Bloody Mary
Fiery Indulgence: Ignite Your Senses with Our Spicy Bloody Mary
COCKTAILS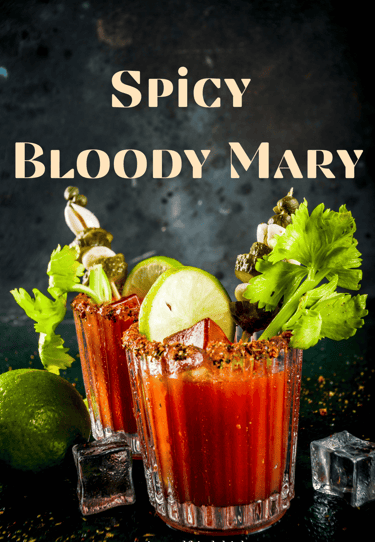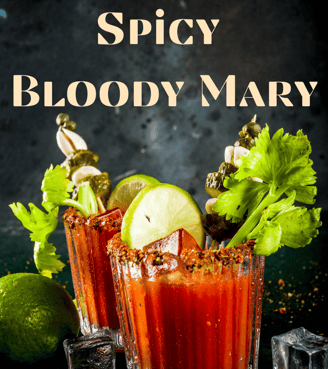 Spicy Bloody Mary
Ingredients:
Makes 1
2 oz. spicy vodka
4 oz. tomato juice
1/2 oz. lemon juice
1/2 teaspoon Worcestershire sauce
1 teaspoon hot sauce
1/2 teaspoon horseradish
1/2 teaspoon celery salt
1/2 teaspoon salt
1/2 teaspoon pepper
pinch cayenne pepper
bloody mary salt for rim
celery stick for garnish
lime slices for garnish
Preparation
Take your bloody mary salt cayenne pepper and place it on a plate. Rub a lime slice around the rim of your glass and then rub the rim of the glass in the salt and cayenne pepper to coat the rim.

Add to a cocktail shaker ice, vodka, tomato juice, lemon juice, Worcestershire sauce, hot sauce, horseradish, celery salt, salt, pepper, and cayenne pepper. Shake until well combined.

Pour your mixture into a glass with ice.

Garnish with a celery stick and lime slice.
The origins of the Bloody Mary trace back to the 1920s in Paris. This cocktail has evolved over time and captured the hearts of many. This recipe shows you how to craft the perfect homemade spicy mix to give you a Spicy Bloody Mary that packs a punch! As for the toppings, this cocktail is so versatile with an array of enticing toppings you can add. This cocktail elevates to a whole new level of heat and complexity.