Spiderweb Cookies
A Sweet and Spooky Halloween Treat: Spiderweb Molasses Cookies
DESSERTSHOLIDAYRECIPES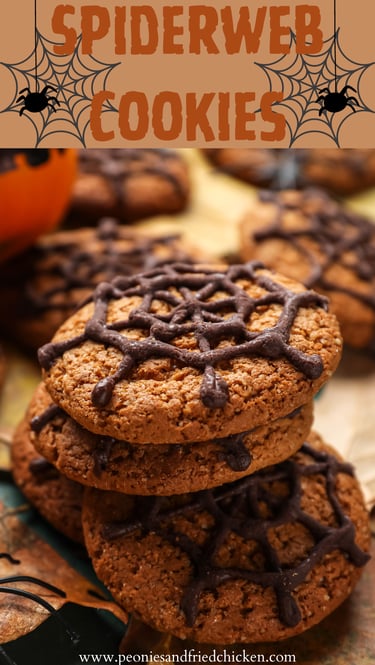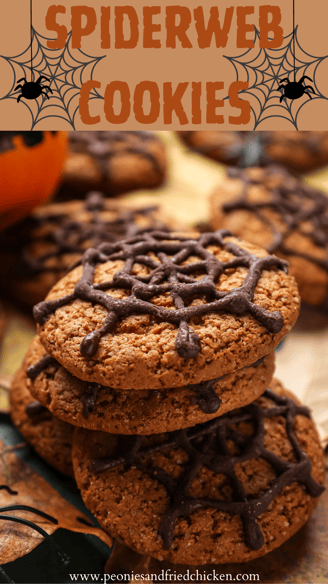 Spiderweb Cookies
Ingredients:
Servings: 40 Total Time: 2 hr 45 mins
Cookies:
2 1/2 cups flour
1 1/4 teaspoon baking soda
2 1/4teaspoons ground ginger
1 teaspoon ground cinnamon
1/2 teaspoon ground cloves
1/2 teaspoon salt
1/2 cup light brown sugar
1 cup granulated sugar
3/4 cup unsalted butter
1/3 cup molasses
1 egg
2 teaspoons vanilla extract
Frosting:
1/2 cup butter
3 tablespoons shortening
1 teaspoon vanilla extract
3 cups powdered sugar
1 tablespoon milk
black food coloring
Preparation
Start by making the molasses cookies. In a bowl combine flour, baking soda, ground cinnamon, cloves 2 teaspoons ginger, and salt. Whisk to combine.

In a separate bowl add unsalted butter, brown sugar, and 1/2 cup granulated sugar. Use a hand or stand mixer to beat until creamy. Slowly add in the molasses and beat with the hand mixer until well combined. Then add in the egg and vanilla extract and continue to beat the mixture on low speed until combined.

Lastly, add in your dry ingredients and mix until everything is well combined.

Cover the dough and place in the refrigerator to chill for at least 2 hours. Once the dough is chilled remove from the fridge and let sit at room temperature for 20 minutes.

Use a scooper and form tablespoon-sized balls of the cookie dough.

Now make the spiced sugar by combining the remaining 1/2 cup granulated sugar and 1/4 teaspoon of ground ginger. Roll the balls of cookie dough in the spiced sugar until fully and evenly coated.

Place the balls of cookie dough on 2 baking trays lined with parchment paper. Bake at 350 F for 12 minutes. Once cooked remove the cookies from the oven and let cool on a rack for a couple of minutes.

To make the frosting combine all the frosting ingredients in a bowl and mix until well combined.

Pipe the frosting onto the cookies in a web shape as shown in the picture. Use a toothpick to drag the frosting to the edges.
Step into the spooky Halloween season with our Spiderweb Cookies. In this recipe, we show you how to make these delicious cookies that capture the eerie charm of Halloween. These spooky treats combine spiced, sugary molasses cookies with an impressive spiderweb design made from rich homemade frosting. These visibly captivating and mouthwatering desserts will have everyone amazed at any Halloween party! So, if you want a sweet treat that's both hauntingly beautiful and delicious then try out our Spiderweb Cookies this Halloween!
Enjoy!