Spiderweb Pizza
Spiderweb Pizza: A Spooky Spin on Pizza Night
DINNERHOLIDAYRECIPES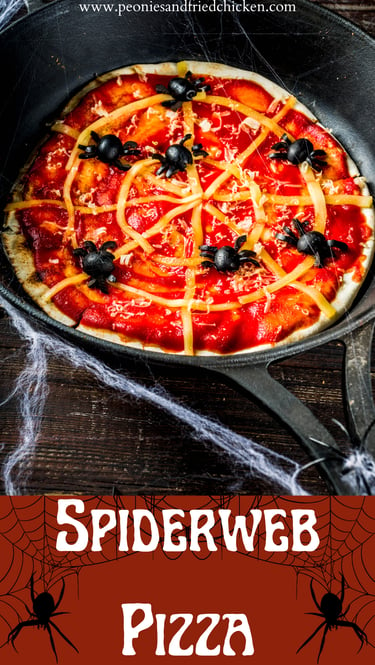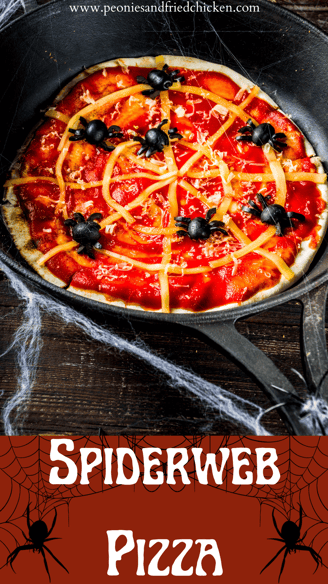 Spiderweb Pizza
Ingredients:
Servings: 4 Total Time: 40 mins
1 8-10 inch pizza crust
14 oz. can whole tomatoes
1/2 tablespoon onion powder
1/2 tablespoon garlic powder
2 teaspoons sugar
1/2 teaspoons salt
2 sticks cheddar string cheese
1/4 cup grated mozzarella cheese
6 pitted black olives
Preparation
To make the homemade pizza sauce start by pouring your canned tomatoes into a bowl and mashing them.

In a saucepan over medium heat add in olive oil. Then pour in your mashed tomatoes, onion powder, garlic powder, sugar, and salt. Let the sauce come to a boil and then reduce heat and cook for about 15 minutes. If you have any leftover pizza sauce depending on how much you like, store the sauce in a container in the fridge.

Preheat the oven to 450 F.

Place your pizza crust on a pizza pan and spread the pizza sauce on. Cut your cheddar string cheese into long strips and assemble them in a spiderweb shape (use the photo for reference).

To make the spiders cut 4 olives in half (this will make the bodies of the spiders). Then take the remaining olives and cut them in half and then into thin slices to make the spider legs. Place the olives you cut in half on the pizza. Then take the spider legs and arrange 6 around each.

Bake for about 15 minutes. Then remove from oven and sprinkle some freshly grated mozzarella.
Join us this Halloween in making this delicious and spooky Spiderweb Pizza. This festive treat is perfect for those nights when you want something quick but with uhh... a little added touch! This pizza is also kid-friendly and great to make in large batches for a party. Our mouthwatering dinner combines a premade crust, homemade pizza sauce, a spiderweb made out of cheese, and black olive spiders. So, get ready to take your pizza nights to the next level this spooky season with our Spiderweb Pizza.
Enjoy!