Sugar Cookie Martini
Sugar Cookie Martini: Sip the Sweetness of the Season
COCKTAILSWINTER COCKTAILSHOLIDAY COCKTAILS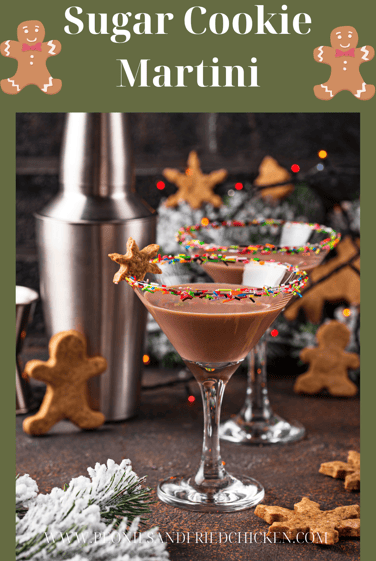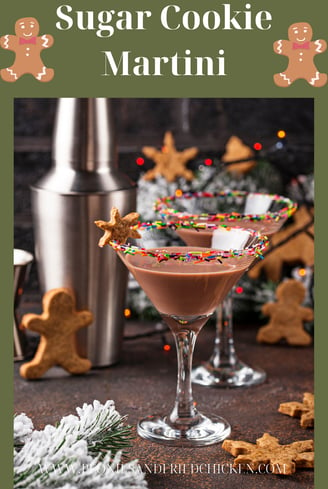 Sugar Cookie Martini
Ingredients:
Makes 1
4 oz. milk
2 oz. irish cream liqueur
1 oz. vanilla vodka
3 oz. chocolate or dark chocolate liqueur
sprinkles
sugar cookie for garnish
Preparation
To rim the martini glass, wet the rim with a little irish cream. Then place the sprinkles on a plate. Roll the rim of the glass around in the sprinkles to fully coat the rim.

In a cocktail shaker with ice combine milk, irish cream, vanilla vodka, and chocolate liqueur. Shake to combine.

Strain the drink into your prepared glass.

Garnish with a small sugar cookie on the rim of the glass.
Indulge in the sweetness of the holidays with our Sugar Cookie Martini cocktail. Well show you how to transform the classic sugar cookie into a delightful cocktail by combining creamy milk, coffee liqueur, flavorful vanilla vodka, and creamy chocolatey liqueur. If you're craving a sip of holiday cheer, then join us in making the perfect festive martini! So, raise your glass to the magic of sugar, spice, and everything nice, all in one delightful cocktail. Cheers to the Sugar Cookie Martini!
Enjoy!