Tater Tot Casserole
Tasty Tater Tot Casserole: Comfort Food at Its Best
DINNER RECIPES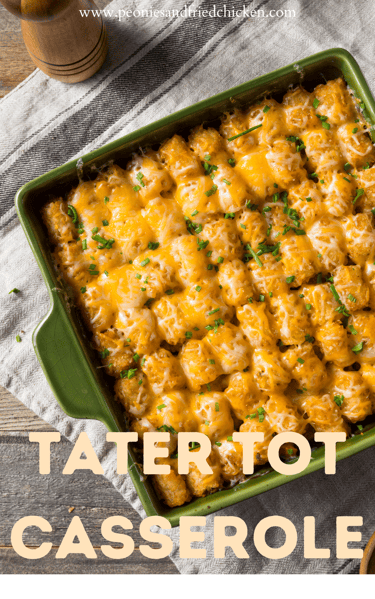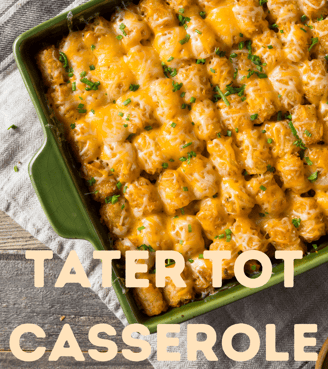 Tater Tot Casserole
Ingredients:
Servings: 5 Total Time: 50 mins
1 lb. ground beef
1/2 yellow onion, diced
1 10 oz. can condensed cream of mushroom soup
1 tablespoon worcestershire sauce
1 32 oz. bag frozen tater tots
3 cups shredded cheddar cheese
1/2 cup sour cream
1 8.5 oz. can corn
1/2 teaspoon garlic powder
salt
pepper
chives for garnish
Preparation
Lightly grease your baking dish with spray or cooking oil. Set aside.

In a skillet over medium-high heat, add the ground beef and diced onions. Cook for about 8 minutes, until the beef is brown and the onions are soft. Then drain the fat from the beef.

Now add in worcestershire, garlic powder, salt, and pepper. Stir and then remove from heat.

Transfer the beef and onion mixture to a mixing bowl and mix in sour cream, cream of mushroom soup, corn, and 1 cup shredded cheese.

Pour the mixture into your prepared baking dish.

Lay the tater tots on top in single-layer rows.

Then sprinkle the remaining 2 cups of cheddar cheese on top.

Bake at 375 F for 35-40 minutes.

Remove from oven and garnish with chopped chives.

Get ready to delight your taste buds with this tasty and simple Tater Tot Casserole. If you're looking for a classic comfort food this fall and winter season, then look no further. This casserole is a hit that you can guarantee everyone will eat and love! In this mouthwatering dish, we combine crispy tater tots, gooey cheese, and rich sour cream with flavorful sauces and spices. This casserole is sure to be a crowd-pleaser! So, join us in celebrating the warmth and simplicity of the Tater Tot Casserole.