Third-Wave Swizzle
Sailing the Wave with a Third-Wave Swizzle
COCKTAILS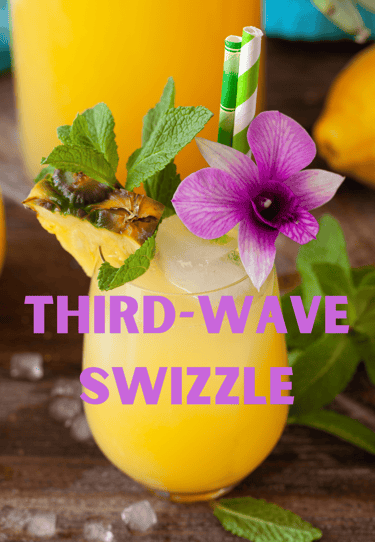 Third-Wave Swizzle
Ingredients:
Makes 1
2 oz. dry gin
1 1/2 tablespoon lemon juice
1 tablespoon cold brew coffee concentrate
1/2 tablespoon ginger syrup
1 cup honey
1 cup water
pineapple wedge for garnish
mint leaf for garnish
edible flower for garnish
Preparation
To make the honey syrup, take the honey and water and combine in a saucepan. Place on medium heat while stirring occasionally until the honey is dissolved. Let cool.

In a glass full of ice combine gin, lemon juice, coffee, ginger syrup, and about 1 1/2 tablespoons of the honey syrup.

Garnish with an optional pineapple wedge, mint leaf, and edible flower.
This Third-Wave Swizzle cocktail recipe is next-level cocktail coolness. Ride the wave of tropical flavors with every sip. We'll show you how to create the perfect balance of gin and fruits to give you that beachy feeling summer! While also having fun garnishing to turn this into the ultimate summer cocktail. So, grab everything you need to make this tropical paradise in a glass and transport to a tiki bar on a tropical island!