Top 10 Christmas Nail Ideas
Top 10 Nail Ideas for the Christmas Season
BEAUTY & NAILSCHRISTMAS
If you want to stick with your matte neutral-colored nails but also want something festive then these nails are great! This nail set has matte-colored greys throughout with one having glitter. They have a beautiful snowflake design with gems as a bold touch.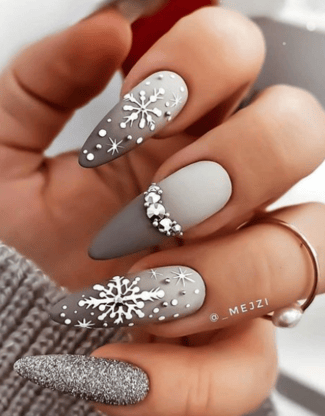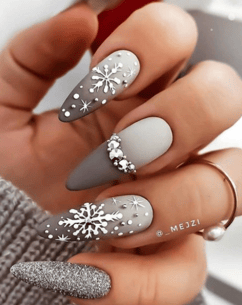 (Photo Courtesy of @the.artsy.nails on Instagram)
This Christmas nail set is so creative and festive. There's a lot going on with this set from the one candy cane nail to the snowflakes on a pink nail to the sparkles. They very much give off a Christmas vibe, no doubt. These nails will catch everyone's eyes this holiday season.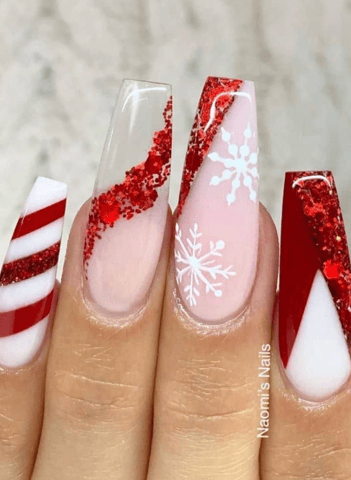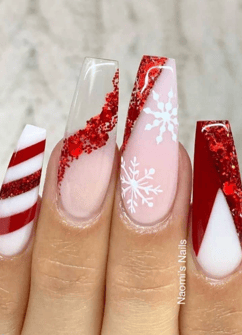 (Photo Courtesy of @naomisnails on Instagram
)
These golden Christmas nails are simple yet creative and festive. This set has a combination of white with golden accents and a beautiful Christmas tree design. If you like a silver and gold Christmas theme in your house then why not have your nails match?! You don't even have to be a gold girly to adore these nails!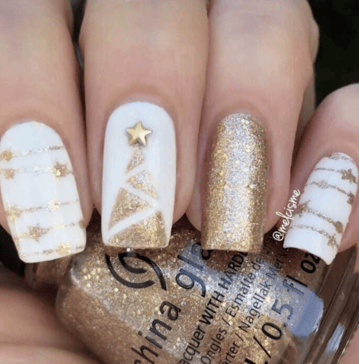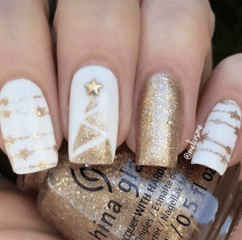 Golden Christmas Tree Nails
(Photo Courtesy of @melcisme on Instagram)
A simple, classy, and festive nail set. These nails are full of all the Christmas colors on a nude base to make the color pop. So if you want something festive for the holidays but not to bold then these could work for you!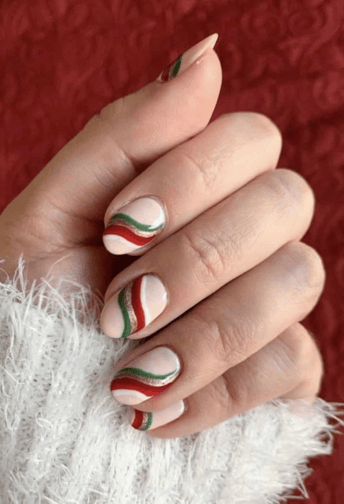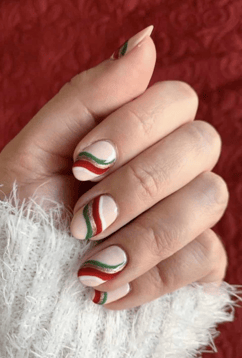 Christmas Color Wave Nails
(Photo Courtesy of @chillhouse on Instagram)
Another elegant and festive nail set. These holiday nails have a nude base with red tips and a beautiful snowflake design. They combine Christmas nails with the red and winter nails with snowflakes. If you're looking for nails with Christmas colors with a little bit of sparkle and design, then these are great.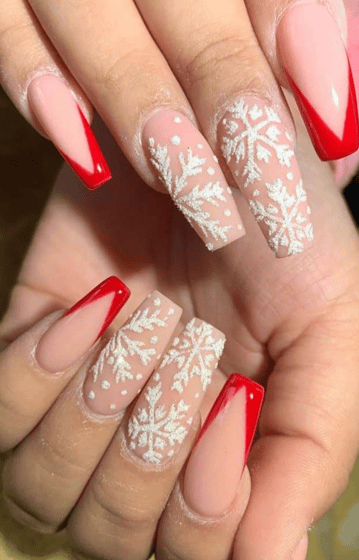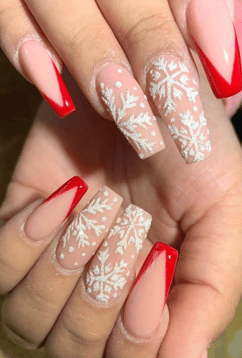 (Photo Courtesy of @chompipa_sara_ on Instagram)
For all the silver girlys out there we found the perfect Christmas nail set. These nails have a glittery silver base with a string of stars design. They're very simple and not to bold but at the same time festive and classy!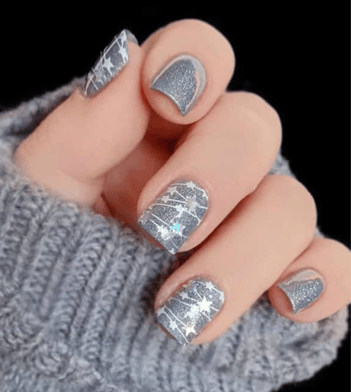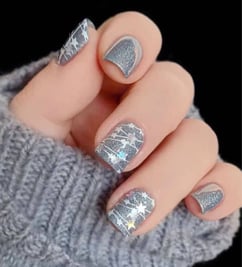 (Photo Courtesy of naildesignsjournal.com)
This nail set is absolutely adorable! To all the gingerbread Christmas girls this is an awesome set to get this holiday season. This set combines candy cane nails and gingerbread man designs with a pop of Christmas colors on a nude base. The creativity and talent involved in this set is amazing. So if you're a gingerbread man lover then you have to get a set like this!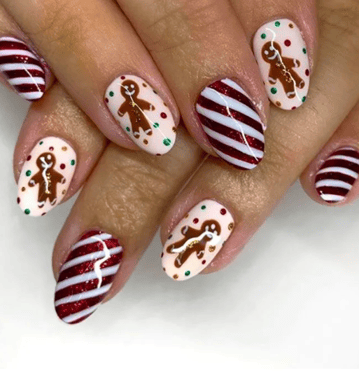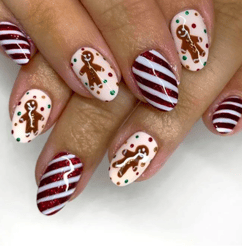 Gingerbread Candy Cane Nails
(Photo Courtesy of @nailedit_beauty on Instagram)
This holiday nail set is minimalist and elegant. These nails have a white base with a beautiful, detailed reindeer design and a pop of silver glitter. So if you're not a fan of Christmas colored nails or bold nails and want something classy then this is a great idea for Christmas!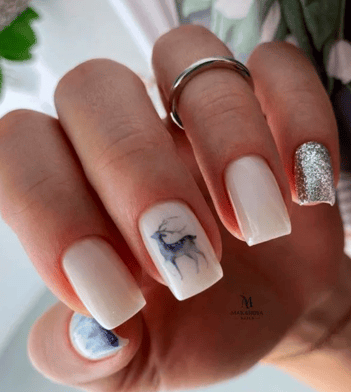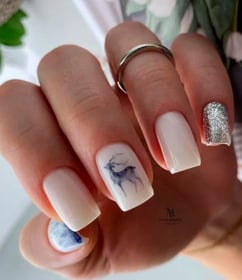 (Photo Courtesy of @makarova_nails_studio_ on Instagram)
If you like plaid decorations during the holidays, then you will love this set of nails. These nails are cut, festive, and elegant. This set combines a green base and a touch of glitter with an all-plaid design on one nail with a plaid heart on another. If you want something simple but cute for Christmas then go with something like this!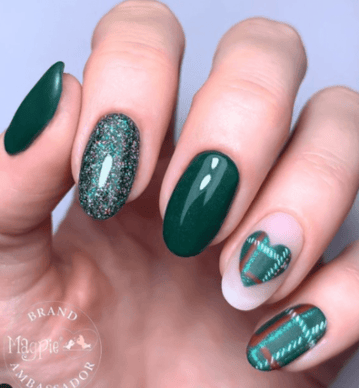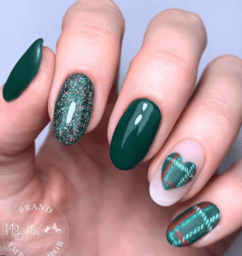 (Photo Courtesy of @thebeautyroombysarah on Instagram)
Where's all the long nail girls? This set is adorable! Combining a pink base with white Christmas designs and a nice added touch of pink glitter. I think the Rudolph design is so cute with the red gem as the nose! So, to all our long nail and pink-loving girlys, get this festive set this Christmas!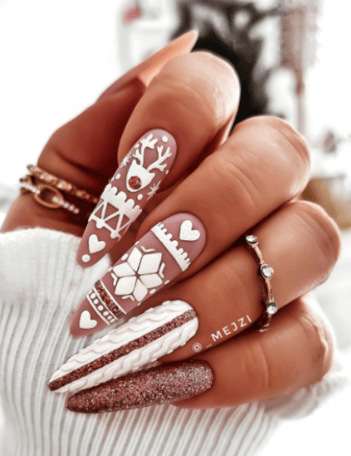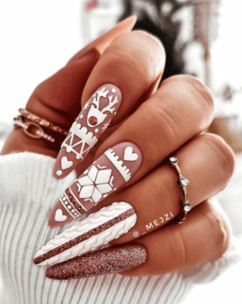 Pink & White Reindeer Nails
(Photo Courtesy of @_mejzi on Instagram)