Watermelon Frosé
Discover the Coolness of Our Watermelon Frosé
COCKTAILS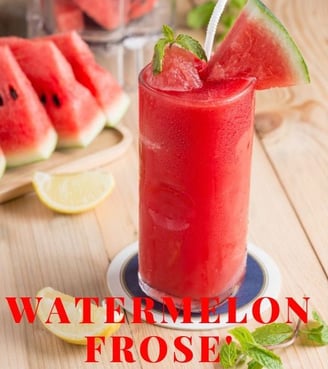 Watermelon Frosé
Ingredients:
Makes 1
2 cups of frozen watermelon chucks
half of a banana
1/2 the juice of a lime
1 tablespoon honey
mint leaves
Preparation
Combine the watermelon, banana, lime juice, and honey into a blender until completely smooth.

Pour into a tall glass and garnish with a mint leaf and a slice of fresh watermelon.
Get ready to dive into the refreshing world of the Watermelon Frosé cocktail. This drink will transport you to a tropical paradise! Immerse yourself in the perfect balance of summer's favorite fruit and the refreshing chill of a frozen delight. In this recipe, we'll show you how to achieve the ideal slushy consistency while creating a perfect tropical blend of watermelon and banana with a touch of zesty lime. Get ready to blend and sip on this drink that's as beautiful as it is delicious!