Watermelon Jalapeño Margarita
Spicy Summer Sweets: Unveiling the Spicy-Sweet Delight of Our Watermelon Jalapeño Margarita
COCKTAILS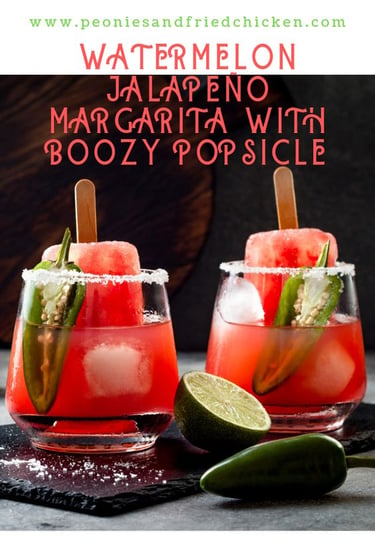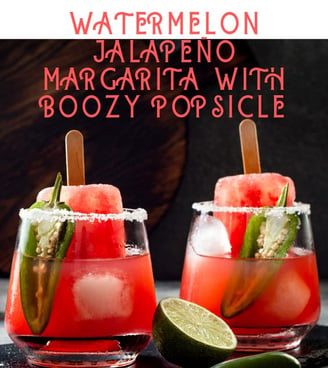 Watermelon
Jalapeño

Margarita
Ingredients:
Makes 1
8 cups of watermelon cubes
1 1/2 cups tequila
1/2 cup triple sec
1/2 cup lime juice
1/4 cup simple syrup
1-2 jalapeño peppers
Preparation
First, puree the watermelon in the blender. Pour puree through a strainer to get rid of any pulp.

Combine watermelon juice, tequila, triple sec, lime juice, simple syrup, and jalapeño peppers. Cover and chill the mixer for 1 hour.

For a watermelon popsicle blend 1/4 of chunks from a large watermelon, 2 tablespoons of sugar, and 6 tablespoons of watermelon vodka until smooth. Add mint and pulse for a second. Pour mixture into popsicle molds and place in freezer overnight.

Once chilled serve over ice and garnish with a jalapeño and a watermelon popsicle!

Spice up your sips with this fiery refreshing Watermelon Jalapeño Margarita. This recipe will show you how to balance sweetness and heat, as juicy watermelon meets the fiery kick of jalapeño in this cocktail. We'll walk you through combining jalapeño with tequila and blending with fresh juicy watermelon and zesty lime to create the perfect balance for your taste buds. While adding a special touch of boozy watermelon popsicles for the ultimate summer drink! Get ready to sip and savor this vibrant, spicy creation.