White Chocolate Peppermint Martini
Christmas Indulgence: White Chocolate Peppermint Martini
COCKTAILSWINTER COCKTAILSHOLIDAY COCKTAILS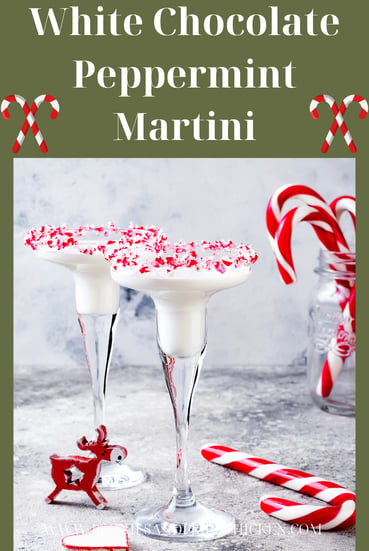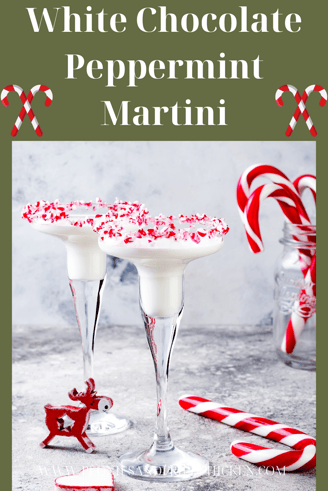 White Chocolate Peppermint Martini
Ingredients:
Makes 2
6 oz. white chocolate liqueur
4 oz. vanilla vodka
2 oz. peppermint schnapps
1-2 candy canes
marshmallow sundae topping
Preparation
Place your candy cane in a plastic bag and then take a rolling pin and crush the candy cane. Then dip the rim of each glass in the marshmallow sundae topping. Place the crushed candy cane on a plate and then dip each glass in the crushed candy cane.

In a cocktail shaker with ice combine white chocolate liqueur, vanilla vodka, and peppermint schnapps. Shake to combine.

Pour the drink into your prepared glasses.
Immerse yourself in the magic of the Christmas season with a White Chocolate Peppermint Martini. This cocktail not only warms your spirits but also adds a touch of festive elegance to any Christmas gathering. This delicious drink combines rich white chocolate liqueur, smooth vanilla vodka, and flavorful peppermint schnapps all in a festive candy cane rimmed glass. We must say, this drink captures the essence of a winter wonderland! So, if you're looking for a drink infused with the joy of the holidays then look no further than the White Chocolate Peppermint Martini. Spread warmth and cheer with this cocktail and have a Merry Christmas!
Enjoy!